Ingredients
Poached Oyster:
1 cup milk  
1 sprig Thyme leaf 
1 tsp butter 
Pinch rock salt and freshly cracked black pepper
4 freshly shucked oysters
Cauliflower Mousseline:
150g cauliflower 
250ml milk 
25g salted butter 
table salt, pepper and nutmeg
Limon Cress milk emulsion:
100ml milk
¼ punnet Limon Cress
egg white 2 each
1 pinch caster sugar
½ pinch salt
Fine Limon Cress tuille:
50g caster sugar
50g brown sugar
¼ punnet Limon Cress
40g butter
40g flour
Scarlet Cress
Method
Poached oyster:
To make milk-poached oyster, pour milk into a pot, bring to a boil and simmer.
Add thyme leaf, butter, rock salt and black pepper to the milk mixture.
Lightly poach the oyster in it for 1 minute.
Garnish with Scarlet Cress
Cauliflower mousseline:
Cook simmering until soft, drain and blitz with a hand blender.
Pass through a chinois; add a bit of milk and season to taste.
Limon Cress milk emulsion:
Bring to simmer and infuse the milk with the Limon Cress.
Blitz two eggs whites until foamy and add the hot milk slowly while whisking.
Skim the emulsion and serve.
Fine Limon Cress tuille:
Mix all the ingredients together. Place small spoonfuls onto baking paper and bake in an oven at 180ºC.
Serve with a pinch of Maldon salt.
Recipe: Franck Pontais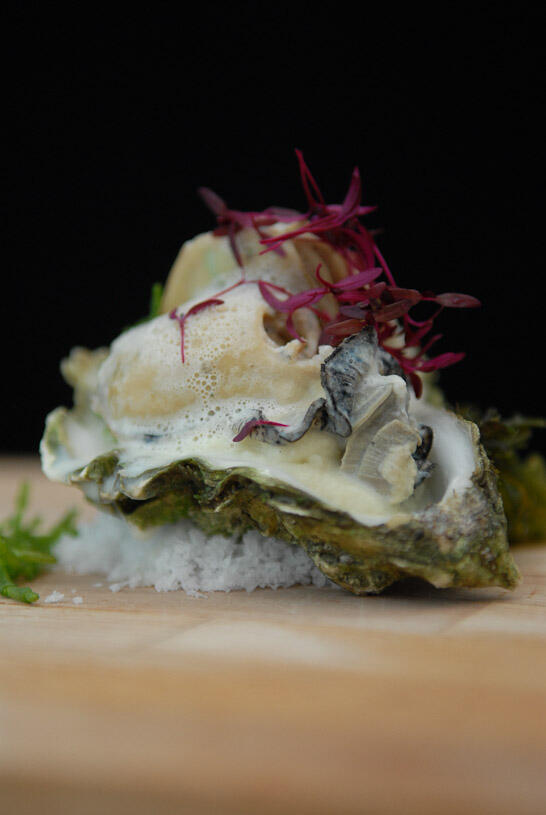 Related recipes
Gastronomical masterpieces
Related products
Say yes to the cress