Ingredients
(For 4 portions)
1 fennel
2 ripe pear of your choice
1 pink grapefruit
40 g pistachio nuts peeled and chopped
40 g goji berries
cup of Yka Leaves
coarse sea salt - Verstegen
olive oil Iluigi
black pepper from the Verstegen mill
Method
Marinade:
Cut the fennel into very thin slices with the help of a slicer.
Season with sea salt and black pepper.
Squeeze the grapefruit and add the juice to the fennel.
Now add some olive oil as well.
Mix everything well and let it marinate briefly.
Carpaccio:
Peel and core the pears.
Cut thinly and divide in a circle on the plates.
Spread the marinated fennel evenly on top.
Spoon the juice over it.
To finish off:
Finely chop Yka Leaves and sprinkle over the preparation. Finish with the pistachio nuts and the goji berries.
Recipe: Frank Fol - The Vegetables Chef®
Photo: Wim Demessemaekers, Photographer | @wim_dmskrs
Preparation time: 15 minutes 
Techniques: veggies, fruits
Plate: Wild White Plate (L)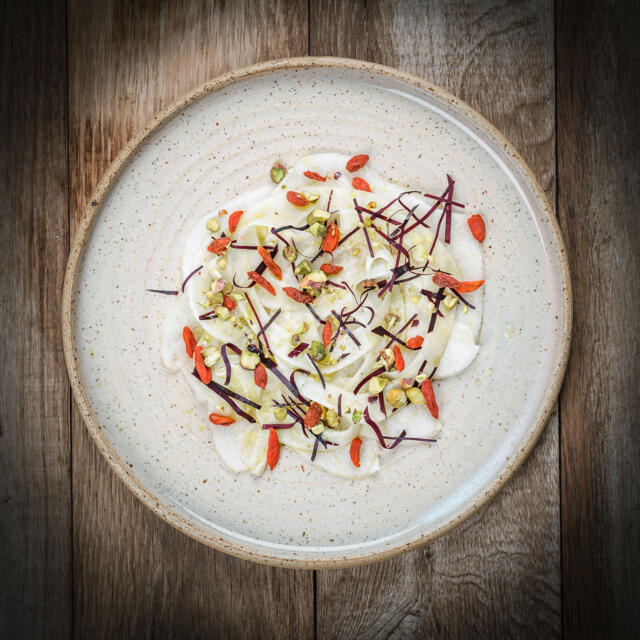 Related recipes
Gastronomical masterpieces
Related products
Say yes to the cress