Ingredients
(For 4 portions)
Roasted honey vanilla peach:
4 medium sized firm ripe yellow peaches, cut in half and stone removed  
300g caster sugar  
100g water  
50g unsalted butter 
50g honey  
1no. split scrapped vanilla pod      
2no. large sprigs fresh thyme     
120g white wine Riesling  
Yka Leaves ice cream:
250g whole milk 
75g whipping cream 
50g caster sugar 
50g egg yolks 
15g Yka Leaves - ripped leaves only   
Décor:
Duchi Buttons
Yka Leaves
roast peach juice  
half vanilla stick split 
Method
Roasted honey vanilla peach:
Place a non stick pan on a medium heat with the sugar, water, honey, and vanilla.
Cook until the sugar starts to take colour, add the butter and thyme cook until a light caramel is achieved.
On a medium heat add the peach halves cut side down and leave until the face starts to take colour.
Place in the oven at 190°C for approx. 5-8 minutes remove release the peach from the pan and decook with the wine to make a sauce.
Leave to cool, then carefully remove the skin from the peaches.
Yka Leaves ice cream:
Using the milk, cream sugar and yolks make an anglaise cooking to 86°C.
Pass through a chinois, and cool over ice.
Mix through the Yka Leaves then pour the mix into a paco jet container. 
Freeze completely then spin on the pacojet machine when required.
Recipe: Simon Jenkins
Website: https://www.snjpatisserie.co.uk/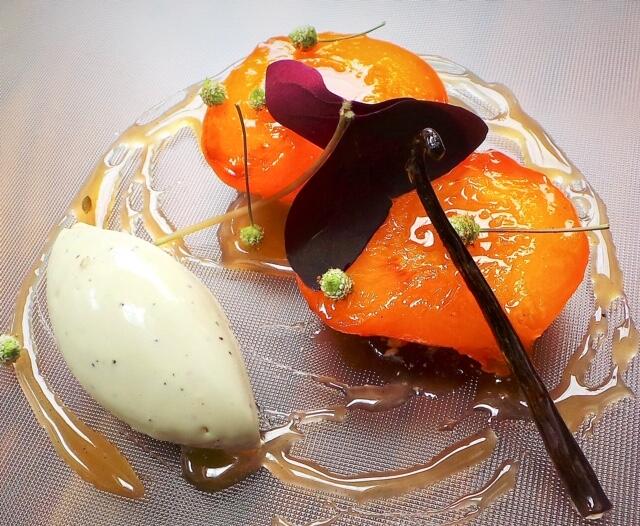 Related recipes
Gastronomical masterpieces
Related products
Say yes to the cress