Ingredients
(For 1 portion) 
1 lamb mouse 
1 langoustine tail 
fennel
apple
sea fennel
salty potato 
Bean Blossom
Scarlet Cress
Method
Season the lamb with salt and pepper, fry it in butter with a little oil. 
Then put away warm.
In the meantime, poach the fennel, drain and add the brunoise apple at the last moment, heat it for a while and season with some butter and a dash of calvados. 
Poach the sea fennel briefly. 
Cut the salty potato into thin slices on the mandolin, poach and let it dry. Then deep-fry to chips. Be careful because the potato will darken quickly. 
Quickly fry the cleaned langoustine tail in the frying butter, remove from the pan and deglaze the frying butter with a dash of red wine and some fennel juice. Reduce this.
Meanwhile cut the lamb into slices and the langoustine tail too. Garnish this on the plate, a slice of lamb and a slice of lobster. 
Finish the plate with the fennel, sea fennel and salty potato chips. Plus some Bean Blossom and Scarlet Cress from Koppert Cress.
Recipe: Willem Roeper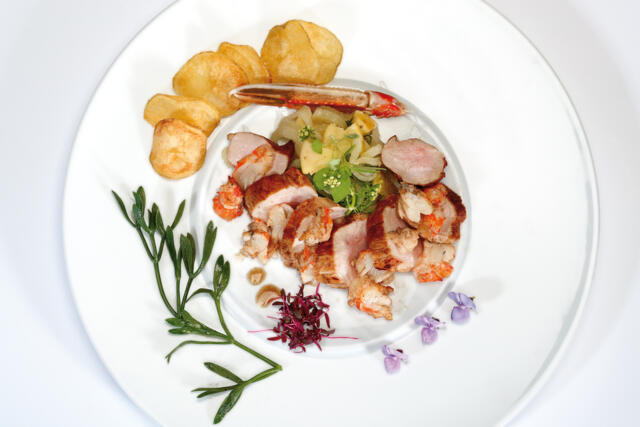 Related recipes
Gastronomical masterpieces
Related products
Say yes to the cress