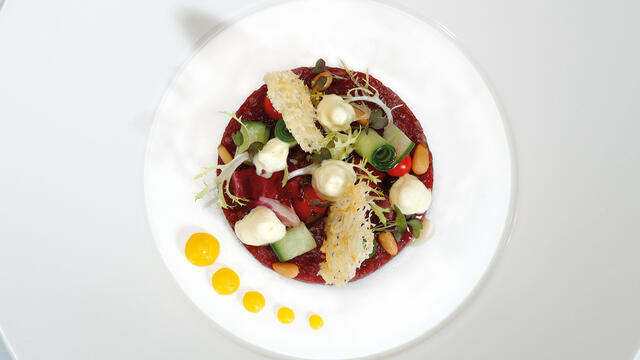 Tartare of Gelderland MRY beef
Tartare from Gelderland MRY beef with sweet and sour cucumber, foam of Doesburg mustard, biscuits of Texel old cheese.
Ingredients
(For 4 servings)
200 g MRY tenderloin
1 shallot
12 pcs cucumber rolls
40 g sugar
15 grains of mustard seeds
40 ml vinegar
40 ml of water
1 dl unsweetened whipped cream
0.5 dl milk
1 tsp Doesburg mustard
100 g Texel rustic old farm cheese
Red Mustard Cress
Pepper
salt
Method
For the sweet and sour cucumber rolls, boil the vinegar with the water, sugar and mustard seeds. Season with salt and pepper and cool. Vacuum the liquid with the Pepquiños and let it rest for 48 hours.
For the cheese cakes, grate the cheese and place the cheese in small circles on a baking mat. Depending on the thickness, bake the cake for about 10 minutes at 160°C and cool on paper.
Mix the whipped cream with the milk and mustard. Season with a little salt. Put it all in a kid and put it in the fridge.
Cut the tenderloin into small pieces and finely chop the shallot. Season the tartare with the shallot pepper and salt.
Now prepare the plate and garnish.
Drinks suggestion: Borgo Conventi Friulano, Tuscany Italy
Recipe: Pascal van Eldijk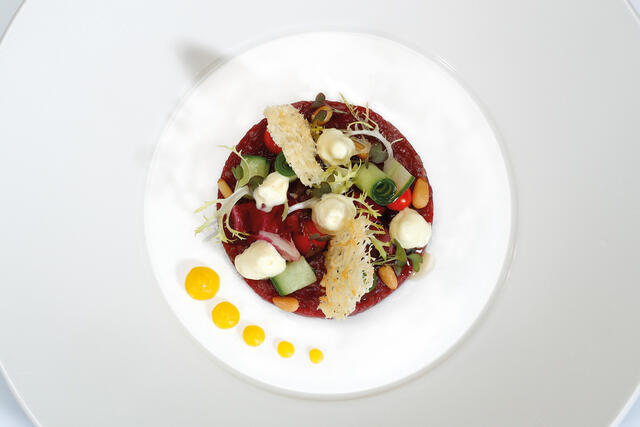 Related recipes
Gastronomical masterpieces
Related products
Say yes to the cress