Ingredients for 5 rolls
2 pods Planifolia Black Vanilla
400 g salmon
100 g daikon
250 g cucumber
800 g sushi rice, cooked and seasoned
5 sheets nori, roasted
160 g tempura flour
40 g trisol
5 g egg yolk
600 g ice water
as needed salt
Method
Cut open the vanilla pods lengthwise and remove the seeds for another preparation.
Place the vanilla pods in the food dehydrator to dry for 6 hours at 60°C.
Now blend the dried Planifolia Black Vanilla pods in a coffee or spice grinder to a superfine powder.
Reserve the vanilla powder.
Cut the salmon into thin strips and place on a fibre-free cloth on a tray to dry in the refrigerator.
Cut the daikon into long strips.
Sprinkle the daikon lightly with some salt, then vacuum seal.
Cut the cucumber into long, thin strips.
Using chopsticks, mix the tempura flour, trisol, egg yolks, the preserved vanilla powder and enough of the ice water to make a thin batter.
First, place the nori on the bamboo mat.
Spread rice over the nori. To make this easier, wet your fingertips with cold water.
Meanwhile, roll the salmon in the daikon strips.
Lay the salmon rolls and cucumber lengthwise on the rice, then roll up into a tight roll.
Pass the whole rolls through the tempura batter and deep-fry at 190°C for 1-2 minutes.
For an even crispier result. Drizzle the rolls with some extra tempura batter while lowering them into the deep fryer.
Then cut the uramaki with a slightly wet knife and serve immediately.
Serving suggestions
Perfect with ginger, soy sauce, and wasabi.
Pairs well with red pepper, spring onion, and mayonnaise.
Delicious as an appetiser, snack, or a starter.
Recept: Gastronomixs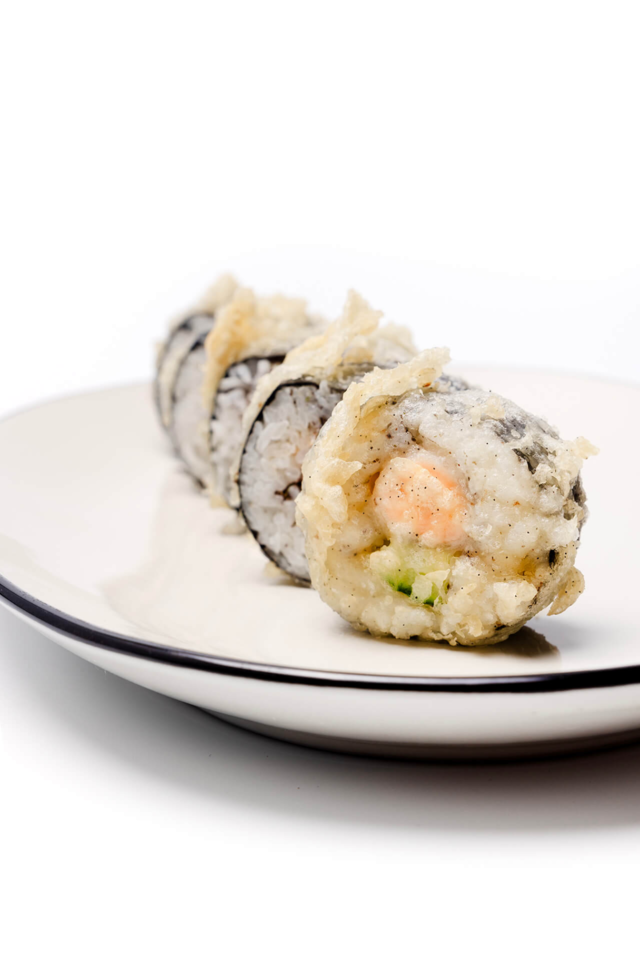 Related recipes
Gastronomical masterpieces
Related products
Say yes to the cress