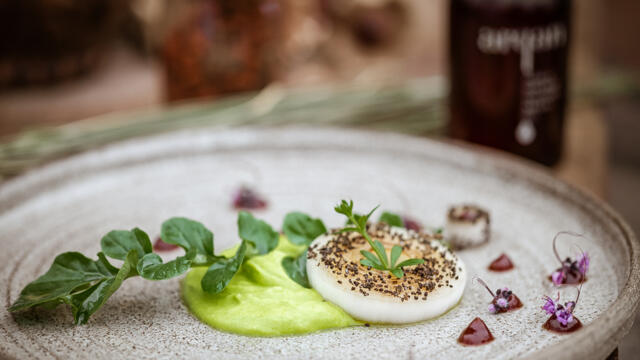 Wild onion
Sous vide cooked snowball, watercress, green garden curry and BBQ tomato.
Ingredients
Zallotti Blossom
Dushi Button
Lupine Cress
ARQAN Arqan oil
Snowball onion:
4 Snowball onion centerpieces
1 tbsp Maldon salt
2 Jasmine Blossom
1 tsp birch sugar
100 ml birch juice
100 ml balsamic white wine vinegar
tasmanian mountain pepper
toasted wattle seeds
Sauce:
16 green chili peppers without seeds
30 Salad Pea
1 shallot
6 garlic cloves
1 ginger (3 * 3 * 3 centimeters)
2 lemongrass
4 tsp ground coriander seeds (roasted)
2 teaspoons of ground cumin
1 teaspoon ground turmeric
2 tbsp lime juice
3 tbsp pineapple juice
2 tsp of white miso paste
6 tbsp olive oil
2 ml Wheat Grass juice pure
wasabi
agar agar
BBQ dip:
50 g tomato paste
50 g organic date tomatoes
20 g Saba di Pere
0.5 g agar agar
3 Shiso Purple Leaves
30 g coconut blossom sugar
20 g yacon syrup
1 clove of garlic - peel and grate finely
30 ml Aceto Balsamico di Modena
½ lime - squeeze
½ teaspoon curry powder
2 teaspoons of Black BBQ seasoning salt
5 g finely grated ginger
5 dashes of organic Worcester sauce
voatsiperifery pepper from the grinder
Method
Snowball onion:
Mix white wine vinegar, birch sap, Jasmine Blossom, birch sugar and salt.
Place the snowball centerpieces in a vacuum bag or jar. Place in the bath for 45 minutes at 82°C.
Then briefly flame over it while still warm and refine with mountain pepper, wattle seeds and argan oil.
Sauce: 
Briefly heat the lime and pineapple juice with the shallot, add the agar agar, process with the remaining ingredients to a creamy paste and season with wasabi.
BBQ dip:
Bring the date tomatoes to the boil with agar agar and use the remaining ingredients to make a shiny dip.
Recipe: ARQAN Wild Cooking – Signature Dish I by Spicehunter® Marcel Thiele
Related recipes
Gastronomical masterpieces
Related products
Say yes to the cress