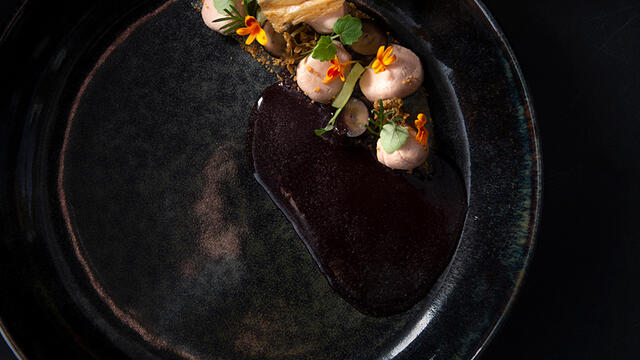 Foie gras and Atsina Cress
Torben Schuster: "I prefer to cook what I like and especially with the cold dishes I sometimes want to bring some theatre to the plate, although always functional."
Ingredients
Atsina® Cress
sweet and sour elderflower
For the grape jelly:
1 l of grape juice
salt
pepper
sweet and sour liquid with elderflower
35 g elastik
For the walnut crumble:
50 g of flour
50 g of brown sugar
65 g roasted hazelnut
1.5 g fleur de sel
50 g of butter
200 g of walnut
For the walnut puree:
600 g of walnut
700 g celery puree
200 g of milk
For the foie gras cubes:
1,100 g of purified liver
7 g of salt
7 g of brine
60 g sherry
20 g of brandy
For the grape slices:
white and blue grapes
sweet and sour with elderflower
For the crispy goose skin:
goose skin
300 g tapioca flour
1 l of stock
For the elderberry juice:
elderberry marrow
sweet and sour juice
salt
cayenne pepper
xantana
walnut oil
Method
Mix the grape juice, salt and pepper with the sweet and sour liquid and tie with the elastik. Pour thinly onto a metal plate and cut into the desired shape.
Chop the walnuts and make a dough. Leave to cool for 1 hour and make crumbs. Bake the crumbs in the oven at 150°C for 25 minutes.
Roast the walnuts for the puree and mix in the thermo blender until an oily mass forms. Add celery puree and milk, emulsify and season.
Vacuum all ingredients from the liver, infuse for 2 hours and cook in a 58°C water bath for 15 minutes.
Pour the contents onto a sieve and drain the excess fat, fill in a silicone mould, freeze and then loosen from the mould.
Thinly slice the grapes and vacuum with the sweet and sour.
Boil the goose skin for 4 hours. Blender smooth all ingredients, spread thinly on a silpat and bake in the oven at 125°C for 45 minutes.
Make a tasty juice from all ingredients, tie with the xantana and lightly top with some walnut oil.
Roll the cut jelly through the crumble, pipe studs of the puree on the plate and place the cubes of liver with the jelly in between.
Garnish with the other components and the cresses and finally add the juice.
***
Restaurant Gut Lärchenhof

Hahnenstraße 1, Pulheim, Duitsland
T 0049/2238 9231016
www.restaurant-gutlaerchenhof.de
Recipe: Torben Schuster
Source: Culinaire Saisonnier 93 - Summer 2019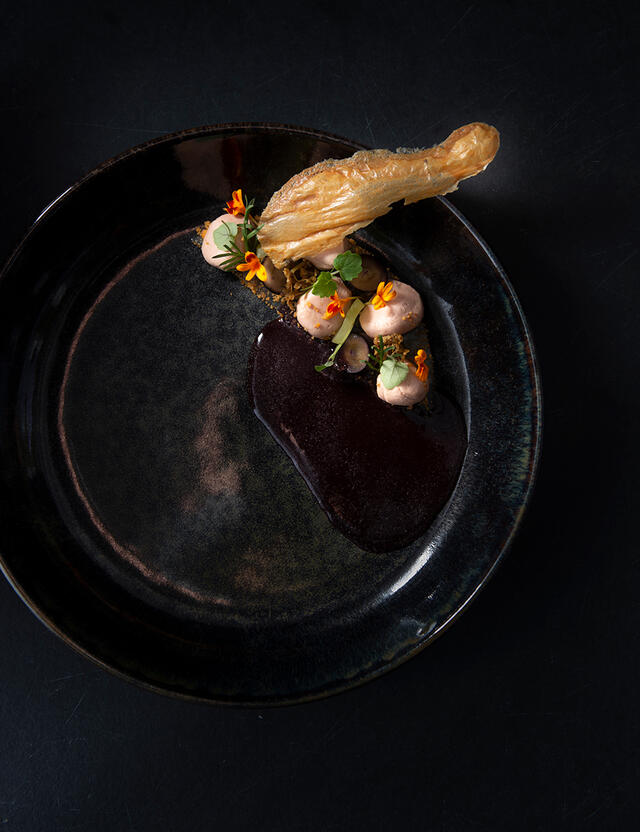 Related recipes
Gastronomical masterpieces
Related products
Say yes to the cress