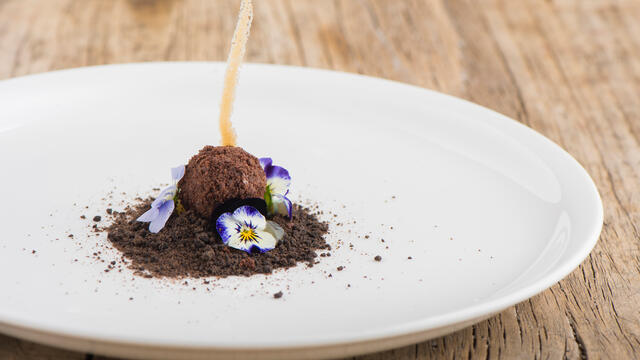 Cornabria Blossom, Atsina Cress and praline with cocoa sand
Marcel Fischer's desserts at the Masters restaurant seem apparently simple in terms of recipes, but the desserts are given a distinct signature due to the intellectual use of the cresses.
Ingredients
Cornabria Blossom®
tuile
cream pastry
white couverture
hollow couverture balls
For the praline:
5 dl of milk
1 kg white couvoure Ivoire
1 dl likor 43
2cl sugar syrup
50 g Cornabria Blossom
1 cl rum
100 g of glucose
100 g invert sugar
For the cocoa sand:
300 g of butter
200 g of flour
100 g of sugar
1 egg
50 g of cocoa powder
4 Sechuan Buttons®
For the gel with Atsina Cress:
1 l apple juice
10 cups of Atsina® Cress
10 g of agar
Method
Melt the couverture au bain-marie. Heat the milk with the other ingredients to 48°C and mix with the couverture. Fill hollow balls with the mass and close with a little white couverture.
Then roll the balls through tempered white couverture and the cocoa sand. For the cocoa sand, chop the Sechuan Buttons®, mix with the other ingredients to crumb and bake in the oven at 180°C until golden brown.
Allow to cool and grind to powder. For the gel, bring the juice and agar to a boil, allow to set, blender smooth with the cress and pass through a fine sieve.
Pipe the cream pastry on the plate, spoon some sand on the cream, place the praline on top, spray the gel and garnish with the Cornabria Blossom® and the other components.
***
Spa & Golfresort Weimarerland
Weimarer Str.60 – Blankenhain
T  0049 3645961640
www.golfresort-weimarerland.de
Recipe: Marcel Fischer
Source: Pâtisserie & Desserts - 49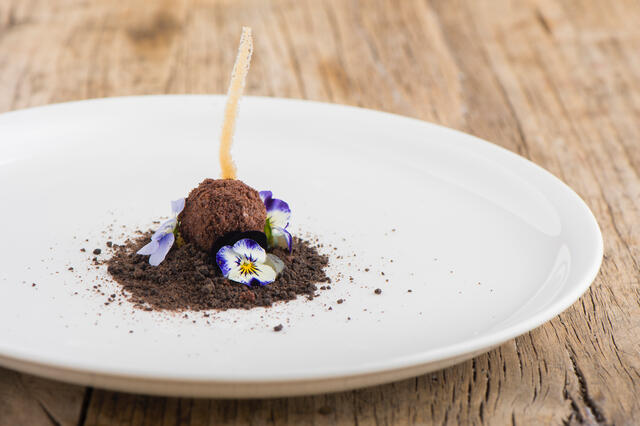 Related recipes
Gastronomical masterpieces
Related products
Say yes to the cress