Ingredients
(For 4 - 6 portions)
Sweet pastry:
250gr flour
125gr caster sugar
125gr salted butter
¼ tsp baking powder
1 medium egg
Filling: 
10 pieces Anise Blossom
350gr peeled and diced golden apples
1 tbsp caster sugar
100ml water
Garnish:
1 punnet Atsina Cress
12 to 15 pieces Anise Blossom
2 golden apples
50gr butter
50ml apricot glaze
Method
Sweet pastry:
Mix the flour and butter together first, then add the baking powder and the egg. 
Mix together until it forms a dough. Do not overwork. 
Let it rest for a few hours before use. 
Make, and prebake, the pastry case before adding the filling. 
Filling:
Put all the ingredients together in a heavy saucepan and cook cover on a medium heat for 20 to 25 minutes. 
Put in a fine sieve with a muslin cloth and let drain gently for one hour in the fridge to remove the excess of water. 
Once cold and drained, fill the pastry case. 
Garnish:
Peel and cut the golden apples into fine slices and arrange them on top of the filling. 
Melt the butter and brush it on the apple before cooking. 
Cook in an oven at 220℃ for 15 to 20 minutes. 
Once completely cool, brush the apricot glaze on top and add the Atsina Cress and Anise Blossom. 
Recipe: Franck Pontais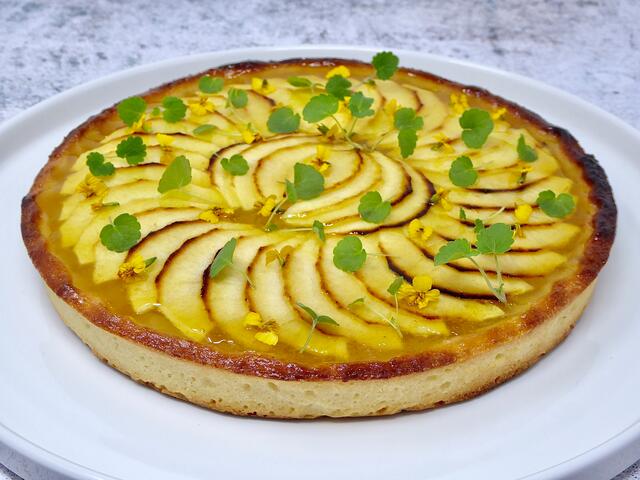 Related recipes
Gastronomical masterpieces
Related products
Say yes to the cress