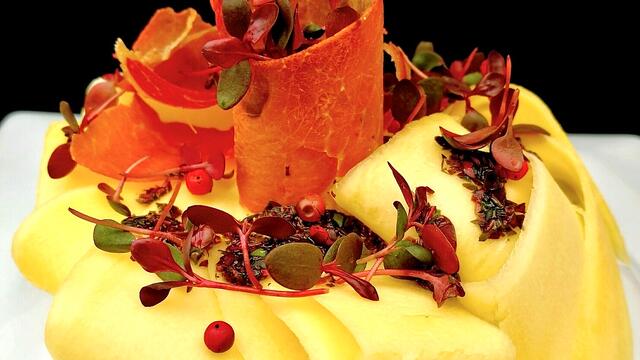 Mango Carpaccio and Parma ham with pink peppercorn dressing
We used this dressing as part of the dish "Mango and Adji Cress Carpaccio". The idea of the dish is to create a kind of Asian fusion with a European twist. We have the sweetness of the mango, the pepper of the Adji cress and the salt of the Parma ham.
Ingredients
(For 4 portions)
2 punnets Adji Cress
2 medium mangos (slightly unripe)
2 slices Parma ham
6 tbsp extra virgin olive oil
2 tbsp balsamic vinegar
2 pinches pink peppercorn
Method
Parma ham tubes:
Wrap a small rolling pin with baking paper.
Brush with oil and roll the slices of ham around the rolling pin.
Cook in an oven at 220℃ for 10 minutes, let cool down and remove from the tubes.
Reserve until use.
Mango and dressing:
Peel and make some fine slices of mango with a mandolin.
Lay the slices on the plate, fold a few of them to create some volume if you wish.
For the dressing, using a whisk, make an emulsion with one punnet of freshly cut Adji Cress, vinegar, olive oil and pink peppercorn.
To dress the plate:
Place the cooked "tube "of Parma ham in the centre of the plate, on top of the sliced mango.
Add the dressing all around and finish with the freshly cut Adji Cress from the remaining punnet.
Serve.
Recipe: Franck Pontais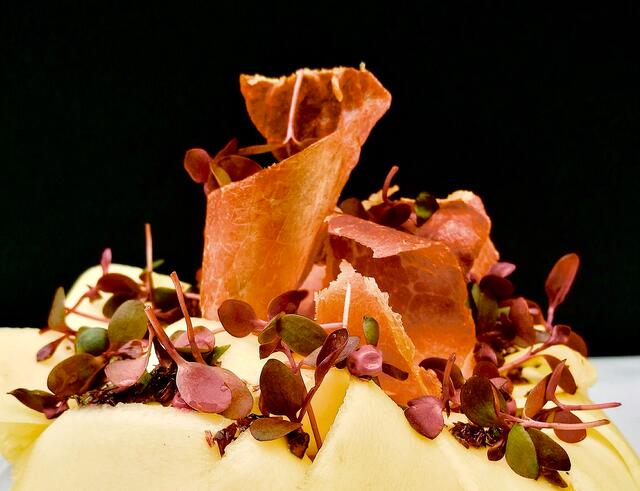 Related recipes
Gastronomical masterpieces
Related products
Say yes to the cress