Ingredients
(For 4 servings)
240 g of white leek
500 g peeled soft-smoking potatoes
160 g onions
2 cloves of garlic
cayenne pepper
bay leaf powder
white pepper from the mill and sea salt
mace
butter
Ghoa Cress
4 hazelnuts
2 chervil root
100 g smoked eel
Method
Finely chop the leek, 1 chervil carrot, onion and garlic. Melt a knob of butter in a cooking pot and add the finely chopped vegetables. Stew them until glassy.
Add the potatoes cut into equal pieces. Simmer a little further. Season with cayenne, bay leaf powder, sea salt and mace. Put everything under water and bring to a boil. Place the lid on the cooking pot and cook for another 15 minutes on a low heat. Remove the soup from the heat and mix well. Season with white pepper from the mill and some sea salt if desired.
Divide the soup between the plates and finish with pieces of smoked eel, shaved hazelnuts, Ghoa Cress and grated chervil root.
Recipe: Frank Fol - The Vegetables Chef®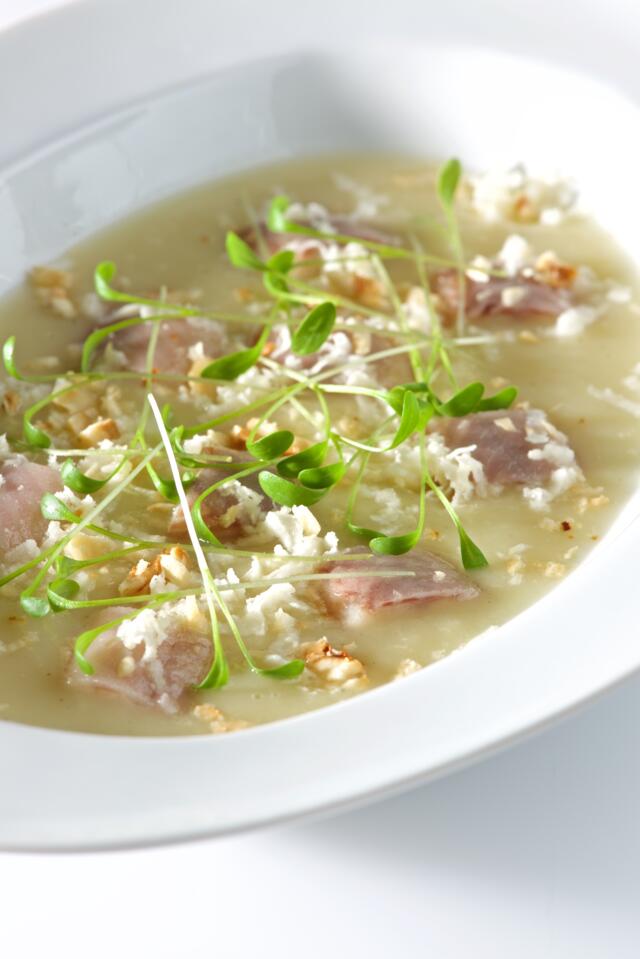 Related recipes
Gastronomical masterpieces
Related products
Say yes to the cress