Ingredients
(For 4 portions)
12 elongated shallots
200 g soft boiled potatoes (peeled)
100 g fresh raspberries
A dash of raspberry vinegar
cup of Limon Cress
sea salt - Verstegen
drops of arqan argan oil
black pepper from the Verstegen mill
Berghoff BBQ
Method
Sour shallots:
Peel 2 shallots and cut into fine rings. Season with sea salt and black pepper and marinate in raspberry vinegar. Same time the other shallots are cooking.
BBQ:
Place 10 shallots on the soft smoldering BBQ so they don't burn. Turn once in a while. This can take up to 30 minutes. When cooked, the outer jug will be black and you will see blisters coming out of the shallot. Let them rest for a while, away from the fire, then cut them in half lengthwise and separate the cooked shallot from the burnt outside.
We are now going to fill each half shallot.
Mashed potatoes:
Wash and cut potato into large pieces, cooked in water with salt.
Do not drain all the liquid during cooking.
Now crush with a good dash of boiling gravy.
We now also add a few drops of argan oil, the raspberry vinegar and all raspberries (except 10 beautiful raspberries that we keep for garnish).
Mix everything well, add some additional seasoning if necessary.
Now we always fill shallot "oysters" with a spoonful of raspberry-potato puree.
We finish with half a raspberry and some slightly sour shallot.
To finish off:
Place 5 "oysters" on each plate and finish with some Limon Cress.
Serve warm, cold or lukewarm. 
Recipe: Frank Fol - The Vegetables Chef®
Photo: Wim Demessemaekers, Photographer | @wim_dmskrs
Preparation time: 60 minutes 
Techniques: veggies, fruit
Plate: Wild Green Plate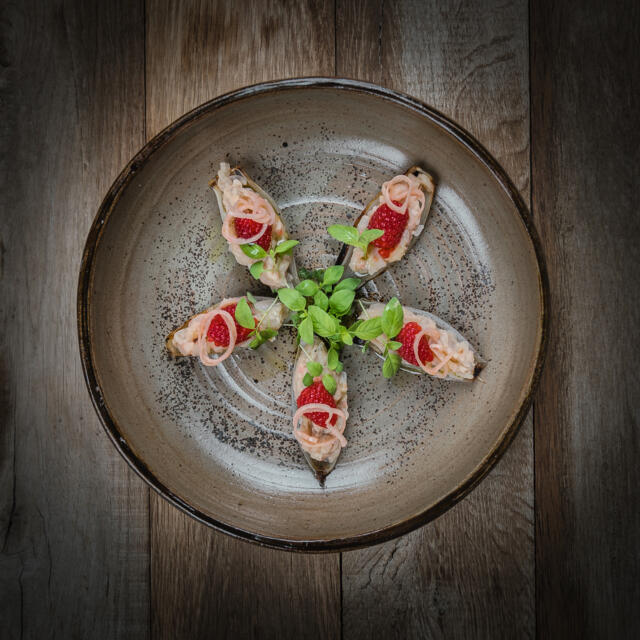 Related recipes
Gastronomical masterpieces
Related products
Say yes to the cress