Ingredients
(For 10 portions)
Salmon:
1 side of salmon weighing approximately 1.2kg
400g sea salt
600g caster sugar
15g ground black pepper
500ml orange juice
1 tsp caraway seeds
1 lemon juice and zest
1 tbsp black treacle (warmed through to help it mix)
Lemon vinaigrette:
100ml white wine vinegar
50g caster sugar 
300ml olive oil
2 dessert spoons of Dijon mustard
2 lemon zest (finely grated) and juice
Cumin cream x4: 
100ml double cream
2 good pinches of ground cumin
salt
To serve:
Salad leaves
10 Oyster Leaves 
10 Salty Fingers 
10 Paztizz Tops
10 Yka Leaves 
Salmon eggs
Method
(For 10 portions)
Salmon:
Mix together all the ingredients for the cure. Leave the skin on the salmon and score it 4 or 5 times. The salmon will take 48 hours to cure and will need to be turned after 24 hours. Once ready, wash off the cure and pat dry. Brush again with another tablespoon of black treacle. Wrap in cling film and refrigerate. Cut thinly as required and serve either in slices or rolled.   
Lemon vinaigrette:
Gently heat the sugar in the vinegar and once dissolved, leave to cool. Use a hand blender to mix in the mustard, lemon juice and zest. Finally, slowly blend in the oil and reserve until needed.
Cumin cream x4: 
Simply whisk together the cream and the cumin in a bowl until the cream will stand up. Season and refrigerate until needed. 
To serve:
Serve with all the ingredients above.
Recipe: Mark Dodson and Olivier Certain from the Marsons Arm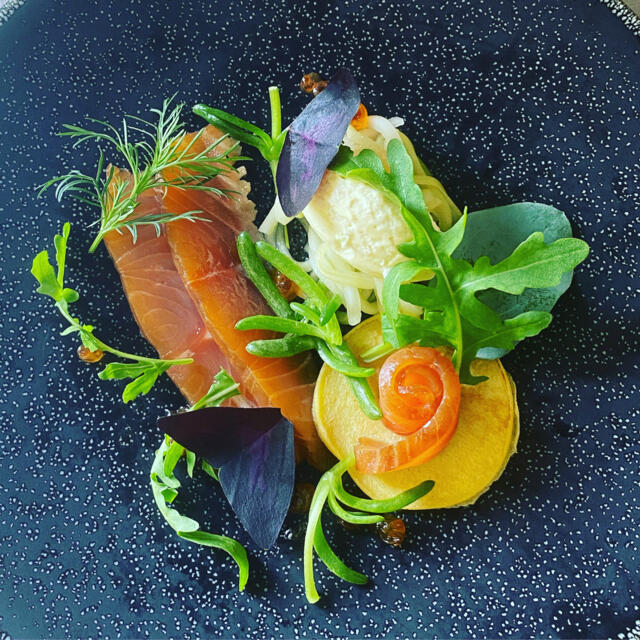 Related recipes
Gastronomical masterpieces
Related products
Say yes to the cress