Ingredients
(For 4 portions)
2 bones of small spring turnips
1 small bowl of currants
strong dash of red Tempranillo wine
cup of Mustard Cress
Gomasio mix - Verstegen
water
olive oil from Iluigi
black pepper mill - Verstegen
coarse sea salt mill - Verstegen
Method
Turnips:
Cut off the greenery from each turnip to about 3 cm above the turnip.
Next, peel 10 turnips and cut in half so that each piece also has some green.
Take a stew, add a dash of olive oil and place the turnips next to each other.
Moisten with some water and season with sea salt. Stew under a lid until water has completely evaporated.
Now season with some gomasio and then fry lightly on both sides until they brown nicely.
Sauce:
Take 4 more turnips and peel them.
Cut into pieces. Take a stew with a dash of olive oil, half of the redcurrants and moisten with red wine until submerged. Season with some sea salt and black pepper. Cook gently under the lid.
At cooking time, mix everything with a blender to a smooth sauce. (possibly add extra wine)
To finish off:
Place the hot sauce in the center of each plate, divide 5 half turnips each time and finish with a few drops of olive oil, some redcurrants and the cress.
Recipe: Frank Fol - The Vegetables Chef®
Photo: Wim Demessemaekers, Photographer | @wim_dmskrs
Preparation time: 20 minutes 
Techniques: veggies, fruit
Plate: Wild Sage Bowl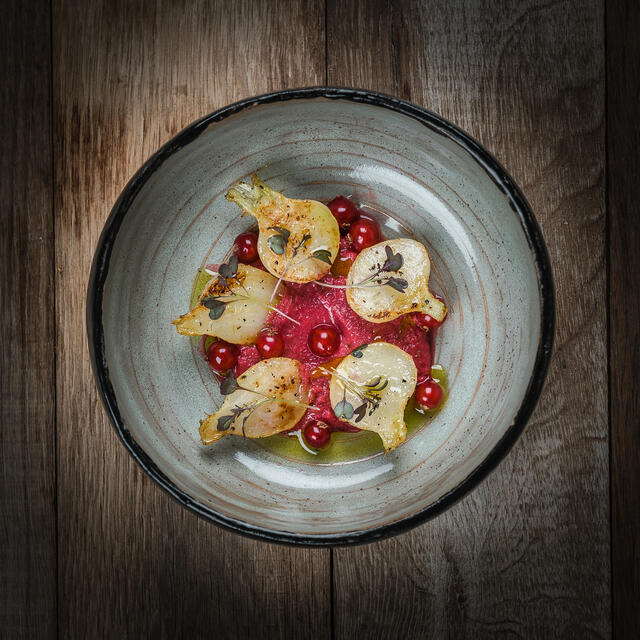 Related recipes
Gastronomical masterpieces
Related products
Say yes to the cress