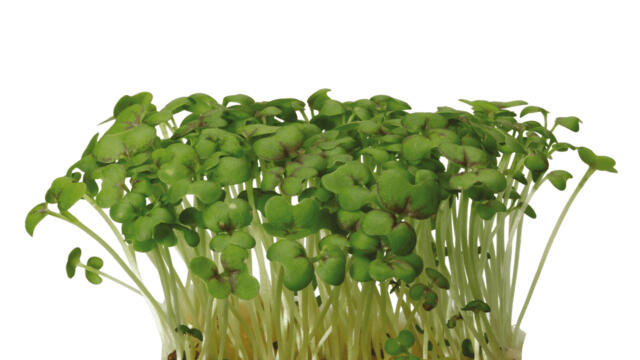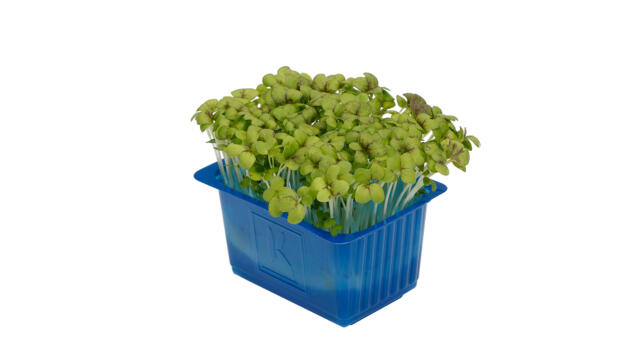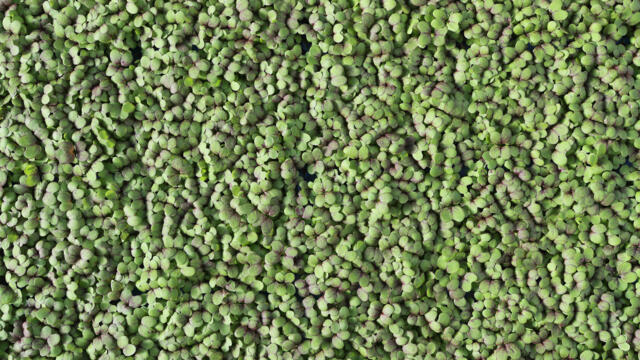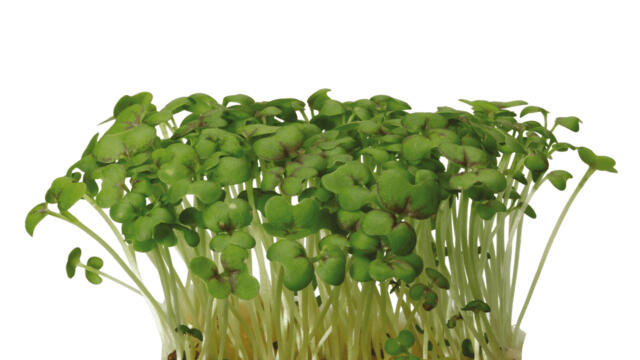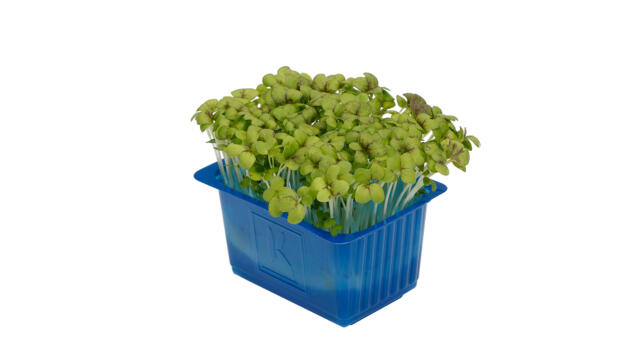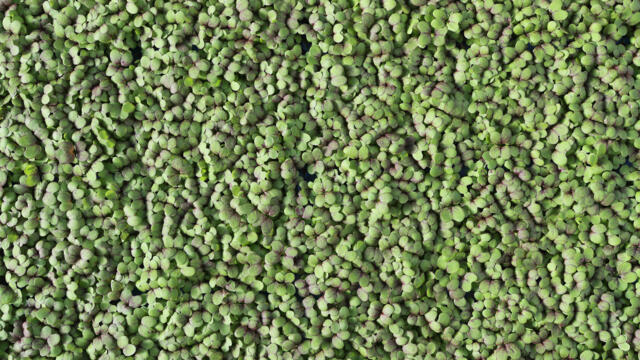 Mustard Cress
,
Horseradish, wasabi
Category: Cress
Mustard Cress has a very pungent taste.
Origin

North Europe

Taste / Aroma

Horseradish, wasabi

Season(s)

Spring, Summer, Autumn, Winter, Asparagus, BBQ, Coquille St Jacques, Fathers Day, Game, Halloween, Herring, Lobster, Mushroom, Mussel, Pumpkin

Storage

Cold, 2-7 °C
Taste
Mustard Cress has a very pungent taste. Most would call it 'pepper' or something similar.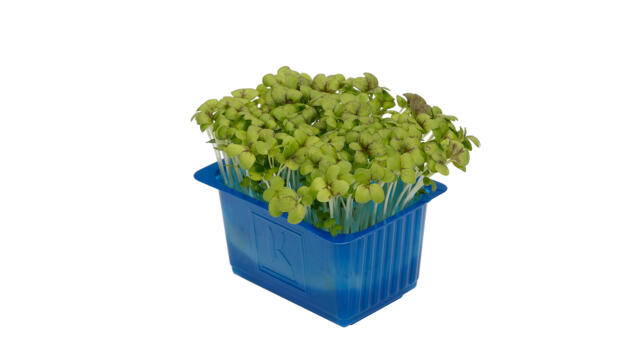 Taste Friends
Mustard Cress is a wonderful ingredient in salads and works well in combination with carpaccio or raw fish. The cress is also a spicy addition to a cold meat or fish dish. Mustard Cress is a good combination with Asian cuisine.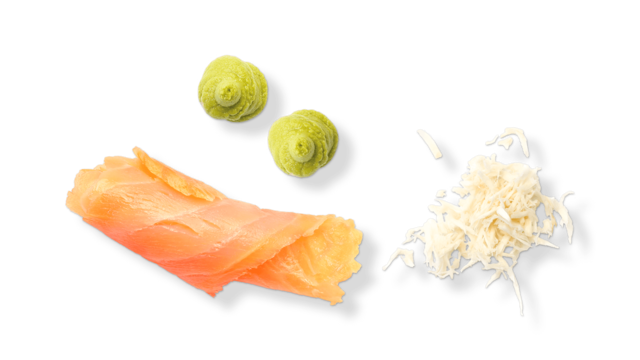 Origin
Mustard Cress is a real traditional Dutch product, and even the seeds are produced in Holland. In summertime fields are coloured by rapeseed and mustard production. Most mustard plants are used for green-fertilisation. However, both Koppert Cress B.V. and the mustard industry harvest the seeds for further processing.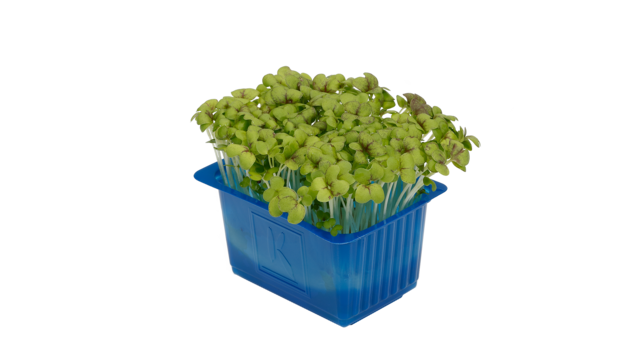 Availability
Mustard Cress is available year round and can easily be stored for up to ten days at a temperature of 2-7°C. Produced in a socially responsible culture, Mustard Cress meets the hygienic kitchen standards. The product is ready to use, since it is grown clean and hygienically. 
Allergens
Mustard is a known allergen. Mustard Cress is not true mustard, but it does contain the substance that causes an allergic reaction to mustard.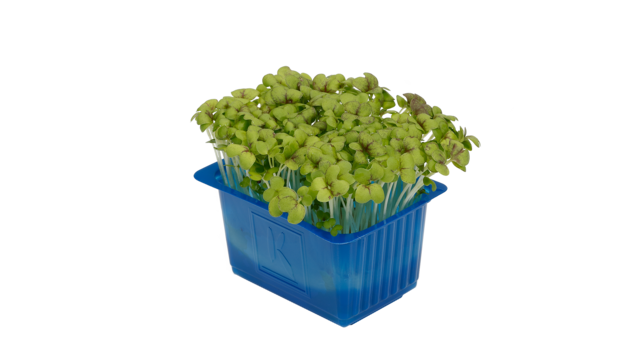 Specifications
Taste

Bitter, Umami

Cultures

African, Alpine, Argentinian, Asian, Australian, Balkan, Baltic, Chinese, Creolic, Dutch, English, French, Greek, Indian, Indonesian, Italian, Japanese, Korean, Mediteranean, Nordic, North American, Polish, Russian, Turkish

Packaging

Solitair (16 items), CressSingle, CressSleeve

Usage

Baking, Blanching, Blending, Canning, Chopping, Confiture, Gel, Marinating, Oil, Pickling, Smoke, Sous vide, Stir frying

Colors

Green, Yellow

Dishes

Breakfast, Cheese, Crustaceans, Fish, Functional, Game, Grill, Lunch, Main course, Meat, Pasta, Pizza, Poultry, Salad, Sandwich, Snack, Soup, Starter, Sushi, Vegetarian, Vegetables

Taste Friends

Cheese (others), Prawns, Lobster, Crab, Crustaceans others, Cod, Eel, Monkfish, Salmon, Fish (saltwater), Fish (freshwater), Shellfish, Apple, Corn, Cucumber, Eggplant, Grapefruit, Olives, Pear, Peas, Pumpkin, Tomato, Deer, Rabbit, Game (other), Chives, Dill, Fennel, Sage, Tarragon, Beans, Beef, Dried ham, Goat, Lamb, Offals, Porc, Sheep, Veal, Meat, Porcini mushrooms, Shiitake mushroom, Mushrooms (others), Pistachio, Walnut, Chicken, Duck, Goose, Pheasant, Pigeon, Quail, Turkey, Poultry (other), Scallop, Black pepper, Mustard, Salt, Vanilla, Artichokes, Asparagus, Avocado, Beetroot, Celery, Carrot, Cauliflower, Chicory, Garlic, Ginger, Kale, Kidney beans, Lettuce, Onion, Potato, Radish, Butternut squash, Sweet potato, Bread, Couscous, Egg, Olive oil, Pumpkin seeds, Rice, Soy sauce, Tofu

Nutrients

Vitamin A, Folic Acid / Vitamin B9, Manganese, Molybdenum, Vitamin C, Vitamin K, Calcium

Synonyms

Wok, Curry
Related Recipes
Gastronomic Masterpieces