Ingredients
(For 4 portions)
​2 punnets Garden cress
4 pieces Citra Leaves
4 pieces BlinQ Blossom
600gr Jerusalem artichoke
A dozen sauteed mushrooms
50gr clarified butter
300ml vegetable stock 
2 pinches ground white pepper
Method
Peel and slice 500gr of the Jerusalem artichoke with a mandoline. 
Brush each slice with the clarified butter and stack them on top of each other. 
Cook the slices in an oven at 220°C for 15 minutes, placed upright in an oven dish, with another oven dish on top to prevent that the slices fall. 
Peel the rest of the Jerusalem artichoke and cut it into wedges. Now cook the wedges in an oven tray with a drizzle of butter at the same time as the oven dish.
Wash, trim and cook the mushrooms face down in a frying pan with a drizzle of clarified butter. Keep for later. 
Using a high-speed blender, blend the cooked Jerusalem artichoke pieces with the vegetable broth, a punnet of freshly cut Garden cress and two pinches of ground white pepper.
Once cooked, carefully remove the stacks from the oven dishes, lay them down and lightly burn them with a blowtorch.
Serve with a Garden Cress sauce, sautéed mushrooms, Citra Leaves, BlinQ Blossom and freshly cut Garden Cress.
Recipe: Franck Pontais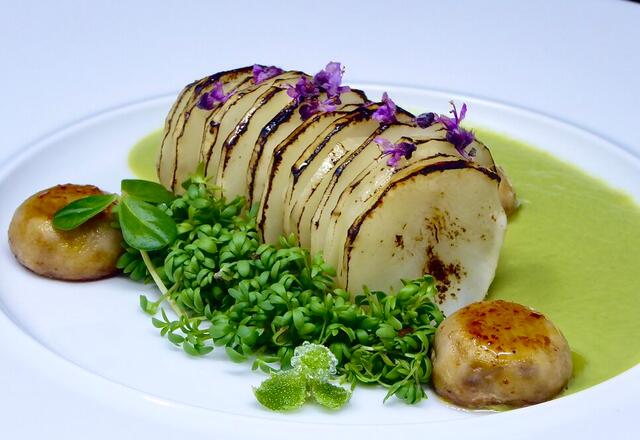 Related recipes
Gastronomical masterpieces
Related products
Say yes to the cress