Ingredients
(For 1 portion)
Bowl:
100g sliced avocado  
50g sliced Charentais melon
80g cooked giant couscous
40g cooked pak choi
1 leaf lettuce
10g pickled ginger
30g orange segment
30g grapefruit segment
1/6 of a punnet Rock Chives         
¼ of a punnet Garden Cress 
¼ of a punnet Atsina Cress 
1 pinch black sesame seed
Dressing:
½ fresh passion fruit    
½ lime  
20ml orange juice 
½ tsp honey  
20ml sesame oil   
1 pinch of salt  
Method
Dressing:
Cut the passion fruit into half and deseed one of the halves.
Place the passion fruit seed into a bowl with the lime and orange juice, the honey, sesame oil and salt. Wisk well.
Bowl:
Arrange all the ingredients in the bowl, add the cresses and pour the dressing on top.
Serve.
Recipe: Franck Pontais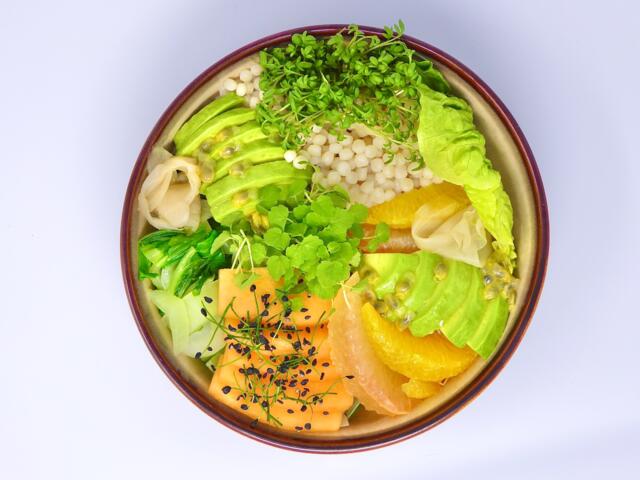 Related recipes
Gastronomical masterpieces
Related products
Say yes to the cress