Deep fried Cauliflower heart with King oyster mushroom
,
With Tahoon Cress and Bean Blossom
Ingredients
(For 4 portions)
1 small cauliflower
4 medium king oyster mushrooms 
100ml Aquafaba 
1 punnet Tahoon Cress
8 pcs Bean Blossom
1 tsp Tahoon cress pulp
1 tsp Tahoon cress oil 
Seasoning
Method
Tahoon oil and pulp:
First, for the Tahoon Cress oil and Tahoon Cress pulp, mix together in a high-speed blender 4 punnets of Tahoon Cress with 400ml of grapeseed oil.
Pass the mix through a coffee filter and let drain for one hour. You'll have the oil at the bottom of the glass and the pulp remains in the coffee filter.
Rest:
Cut the cauliflower in 4 quarters, remove the flowers and keep the centres (4 pieces). Make some cauliflower couscous with the flowers and keep aside.
Blanch, drain, dry and then fry the 4 pieces of the stalk.
Cut the head of the mushrooms and sizzle them head down in a frying pan, finish to cook them in a hot oven and season to taste.
Cut the "stalk" part of the rest of the mushrooms into slices and dry them in the dehydrator machine for 30 minutes, once dried, fry them and keep aside.
Cut also half of the punnet of Tahoon Cress and dry in the machine with the mushroom, this will be used for the seasoning at the end.
Pour the Aquafaba in a mixing bowl and using an electric whisk. Mix for 8 minutes. Add the Tahoon Cress pulp and reserve.
Dress the plate as shown on the picture, season well with the dried Tahoon Cress; add some fresh Tahoon Cress, Tahoon oil, Aquafaba sauce and the pieces of Bean Blossom.
Recipe: Franck Pontais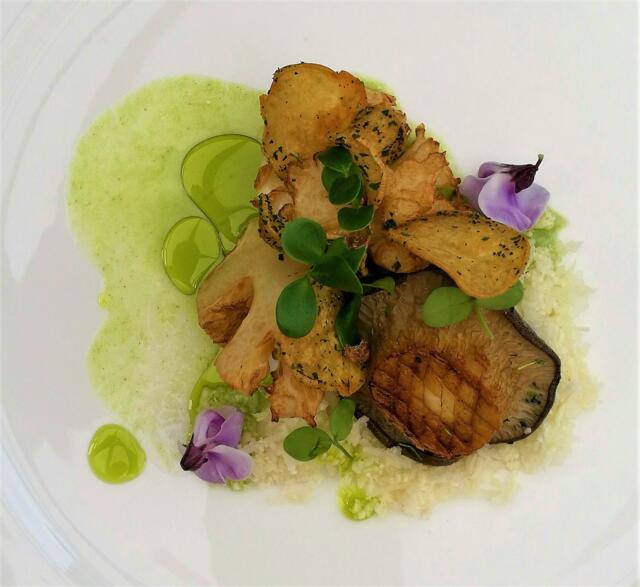 Related recipes
Gastronomical masterpieces
Related products
Say yes to the cress