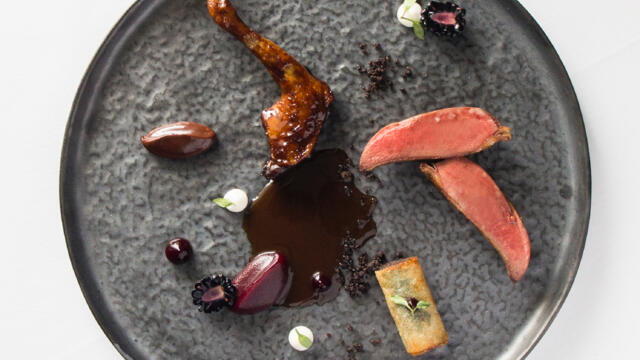 Pigeon, blackberry, soft bitter chocolate and pastilla
Whether it is a classic Badisch farm meal in the stube, the food for half-board guests or the star meal in the Wilder Ritter, André Tienelt's handwriting is easily distinguishable everywhere.
Ingredients
blackberries
Ghoa Cress®
spring roll of pigeon
beetroot puree
For the bitter-sweet black pudding:
5 dl pig's blood
25 ml of sherry vinegar
5 cl blackberry vinegar
200 g diced bacon
8 chopped shallots
100 g pure couverture 72%
1 minced garlic clove
80 g crème fraîche
100 g crumbs of sourdough bread
Pigeon sauce:
2 dl liquid maltose
1 dl mirin
1 dl clear soy sauce
For the almond cream:​
100 g almond cores
500 g of milk
sea salt
5 g of agar
For the chocolate ganache:​
200 g pure couverture 64%
50 g of soft butter
2 dl cream
Pigeon
4 pigeon breasts
8 pigeon feet
soy sauce
mirin
rice vinegar
hoi sin sauce
For the blackberry gel:
100 g blackberry juice
1 g of agar
sugar
Method
For the black pudding, mix the blood with both vinegars. Fry the chaps on low heat, strain the fat and reserve. Fry the garlic and shallots translucent, add the fat and crème fraîche and mix well.
Mix all ingredients together, fill in glass jars and steam in the oven at 75˚C for 25 minutes. Let the black pudding cool, cut into cubes and bake crispy. Then make crumbs from it.
Mix all the ingredients for the pigeon sauce. For the cream, roast the almonds in the oven until golden brown. Bring the milk to a boil, add the almonds and cook over low heat for 20 minutes.
Note: do not remove the sheet of milk. Pass the milk, add agar and allow to cool. Season and blender until smooth.
Make a ganache of all ingredients and reserve lukewarm. Briefly cook the breasts in a water bath, fry them crispy on the skin and coat with the lacquer.
Marinate the legs with the other ingredients and cook in the oven at 160˚C. Reserve the gravy and tie off if necessary.
Part of the meat is used with a dove heart for the spring roll. For the gel, bring all ingredients to a boil, let cool and blender smooth.
Deep-fry the spring roll crispy, dress with the other components on the plate and garnish carefully with the Ghoa Cress® and halved blackberries.
***
Hotel Ritter
Tal 1, Durbach An der Badischen Weinstrasse
​T. 0049 781 9323293
www.Ritter-durbach.de
Recipe: André Tienelt
Source: Culinaire Saisonnier 87 - Winter 2017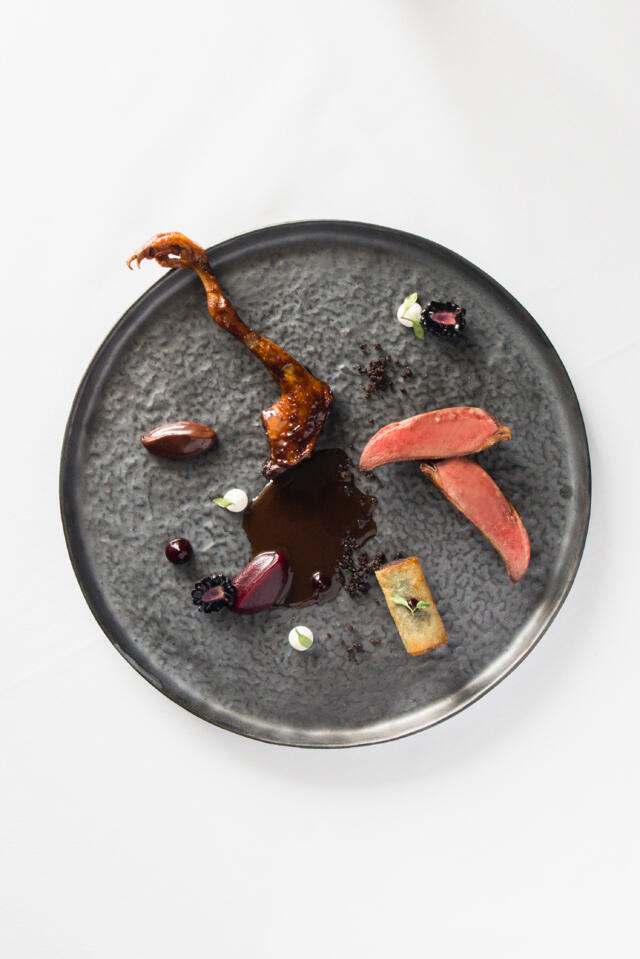 Related recipes
Gastronomical masterpieces
Related products
Say yes to the cress