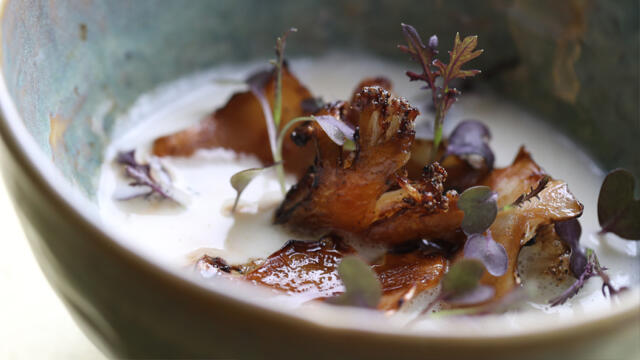 Caramelized cauliflower, foamy cauliflower soup
Ingredients
(For 4 servings)
1 small cauliflower
1 small onion
1 small potato (peeled)
2 cloves of garlic
1 dl milk
50 gr butter
3 dl vegetable stock
½ dl cream
2 pieces of bay leaf
3 pieces Cardamom Leaves
3 pieces of Kaffir Lime Leaves sugar
salt
100 gr brown caster sugar
Kyona Mustard Cress
Method
Cut the heart out of the cauliflower and slice it together with 4 florets of cauliflower.
Blanch these in the vegetable stock and let it cool in a container for later use.
Finely chop the onion and garlic and fry in ¾ of butter until translucent.
Cut the potato and the cauliflower and fry them together with the bay leaf 2 Cardamom Leaves and 2 Kaffir Lime Leaves.
After 5 minutes, add the milk and vegetable stock and cook until done.
Make a caramel of the sugar together with the Cardamom Leaves and the Kaffir Lime Leaves and a little salt and deglaze with water until a syrupy substance forms.
Fry the pieces of blanched cauliflower in a fat-free pan, deglaze with the caramel syrup until dissolved and until the cauliflower turned a nice dark brown.
Remove the Cardamom Leaves, Kaffir Lime Leaves and the bay leaf and blend the soup with a hand blender until a foamy mass is formed.
Heat the plate, pour in the frothy soup and put the salty caramel of cauliflower nicely together.
Cut the Kyona Mustard Cress and put a few sprigs between the cauliflower.
The color of the Kyona Mustard Cress blends beautifully with the caramelized cauliflower, both in color and decoratively, while the taste of the spicy mustard matches nicely with these flavors.
Recipe: Eric Miete
Related recipes
Gastronomical masterpieces
Related products
Say yes to the cress