Ingredients
4 pcs beetroot
4 sprigs of thyme
2 sprigs of rosemary
2 stalk celery
1 dl vinegar
100 gr sugar
1 dl water
1 pc Moroccan salted (pickled) lemon
(Boiron) mashed mango passion fruit (frozen HANOS)
Olive oil
Sea salt
Tahoon Cress
Vene Cress
Scarlet cress
Zallotti Blossom
Method
Setting Big Green Egg for vegetables: 180 - 200°C, convegtor, stainless steel grid.
Wash the beets and place them in an aluminum dish, sprinkle them with a little olive oil and sea salt, then place the sprigs of thyme and rosemary over it and pack the whole thing airtight with aluminum foil.
Place this in the Big Green Egg for +- 2 hours, (note that with very large beets this will take at least 30 to 45 minutes longer).
When they are cooked, remove the skin and portion the beetroot. Drizzle with some olive oil and some sea salt.
Make a sweet sour by mixing the vinegar with the sugar and the water, cut the celery into fine slices and marinate it in the sweet and sour for 24 hours (Do you have a vacuum sealer? Vacuum and marinate. Then it only takes 1 minute) .
Cut the pickled lemon into quarters and remove the pulp, pat the rind dry with kitchen paper and cut into fine brunoise rags.
Place the beets on the plate and sprinkle with the lemon zest, celery, mango passion fruit puree and the cress.
Recipe: Leonard Elenbaas (BBQ Pitmaster Community) and Eric Miete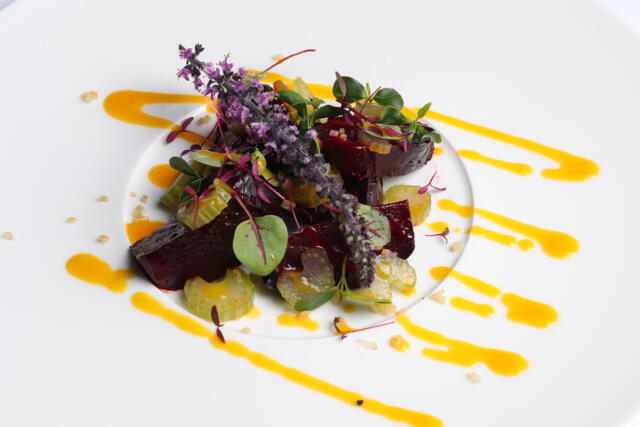 Related recipes
Gastronomical masterpieces
Related products
Say yes to the cress