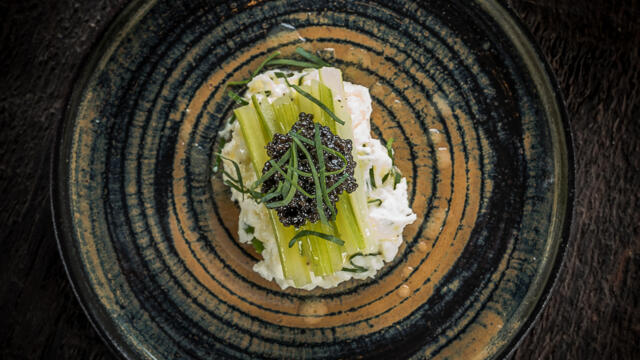 Braised celery darts with creamy potato and goat cheese and Imperial Hertiage caviar
,
Frank Fol – The Vegetables Chef®
Ingredients
(For 4 portions)
1 branch white celery
Butter (Hollebeekhoeve)
300 gr boiling potato
100 gr Imperial Heritage caviar
4 tablespoons fresh goat cheese
Cayenne pepper and sea salt
Oyster Leaves
Method
Darts:
Cut the celery into equal bars of 7 by half cm. Place them in a cooking pot with some butter and water.
Season with sea salt and cayenne pepper. Cook until crispy and leave to cool in gravy.
Potato salad:
Peel the potato, cut into cubes and cook in salted water.
Drain and mix warm with cayenne pepper, fresh goat cheese and a few leaves of finely chopped Oyster Leaves.
To finish off:
Place some hot potato salad on each plate. Place some warm celery darts on top.
Spoon a spoonful of caviar onto each plate.
Finish with the celery gravy and some extra finely chopped oyster leaves.
Recipe: Frank Fol - The Vegetables Chef®
Photo: Wim Demessemaekers, Photographer | @wim_dmskrs
Preparation time: 15 minutes
Techniques: stew, boil, raw
Plate: Wild Moon black plate
Recommended drink: Potato Vodka, Secrets (Belgian brand)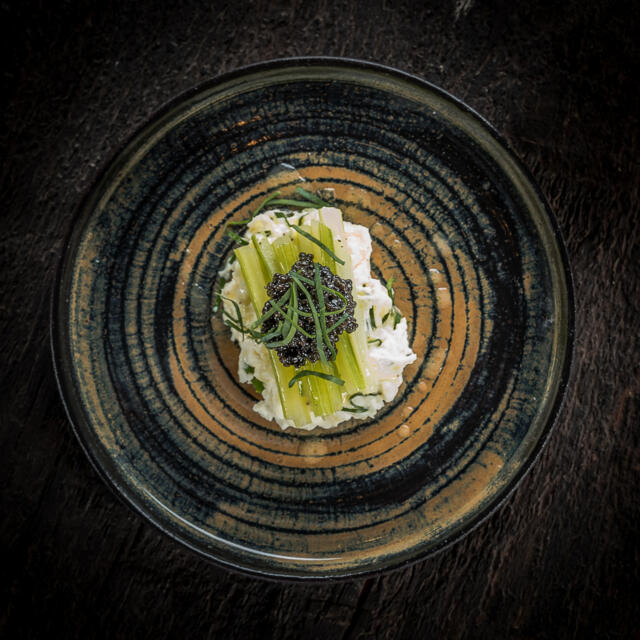 Related recipes
Gastronomical masterpieces
Related products
Say yes to the cress