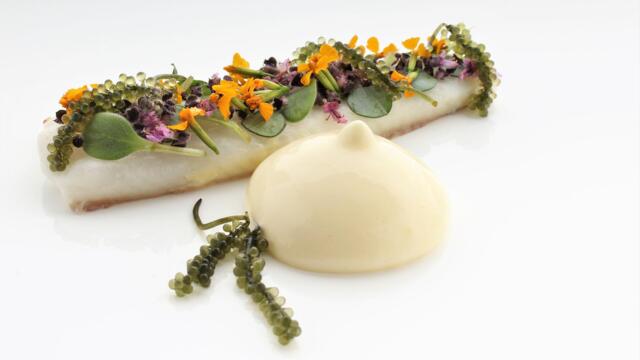 Turbot with herbs, lemon juice and Moai Caviar
Ingredients
(For 5 portions)
5g Anise Blossom
5g Oyster Leaves
10g Zalotti Blossom
5g Borage Cress
25g Moai Caviar
Steamed Turbot: 
Airy lemon sauce: 
60g butter
20g egg yolks
25g lemon juice
50g whipping cream
salt
Method
Steamed turbot:
Season the turbot fillets with salt.  
Place the turbot fillets on a greased baking sheet and cover with cling film.  
Place the plate with the turbot fillets on top of a pot of boiling water and steam them there or steam them in a steam oven.  
Airy lemon sauce: 
Melt the butter.  
Put butter, egg yolks, lemon juice, cream and salt in a siphon bottle.  
Add a gas cartridge to the bottle and shake well.  
Keep the siphon bottle warm in a pot of hot water, the water must not be boiling. 
When serving: 
Serve the fish on a plate and spread the herbs and Moai Caviar over the fish.  
Serve the airy lemon sauce next to the fish. 
Recipe: Søren Kyed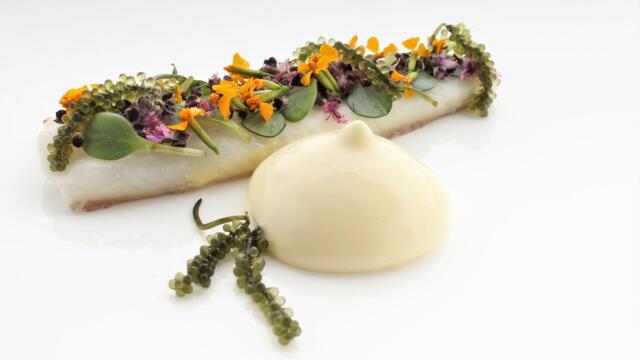 Related recipes
Gastronomical masterpieces
Related products
Say yes to the cress