Ingredients
(by glass)
Coffee cocktail:
2 parts coffee
1 part seawater
1 part islay whiskey (smoky)
1 part Sea Fennel syrup
1/3 part protein
1 part crushed ice
Oyster:
1 Zeeland Creuses
1/8 Cucumber
1/4 lime (lime juice)
1/4 cup Rock Chives
1 pinch ground pepper
Teaspoon of olive oil
1 piece Moai Caviar
1 sprig of Sea Fennel
Method
Coffee cocktail:
Measure all ingredients in a jigger, add all parts together in a shaker and finally the ice cream.
Shake this well in the cup for 15 seconds.
Pour this without the ice into a tumbler just below the rim.
Oyster:
Place the oyster on the big green egg at 210°C until it opens.
Remove the oyster with an oyster knife and drain the liquid.
Juice the cucumber in the slow juicer.
Mix the juice together with the lime juice, the ground pepper and the olive oil to form a dressing.
Spoon the dressing over the oyster and top with a sprig of Moai Caviar and a sprig of Sea Fennel.
Serve the shell on the glass with the cocktail.
Recipe: Leonard Elenbaas (BBQ Pitmaster Community) and Eric Miete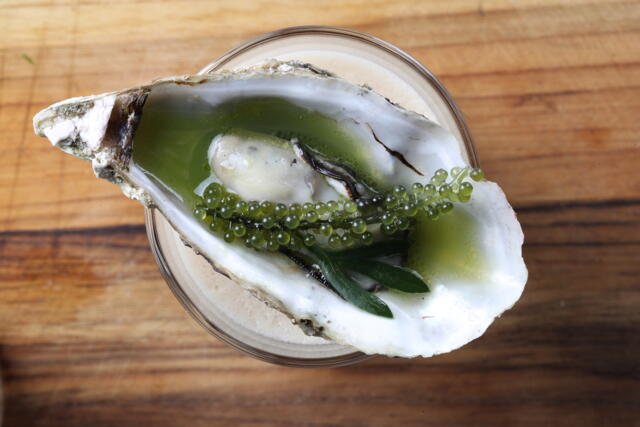 Related recipes
Gastronomical masterpieces
Related products
Say yes to the cress