Ingredients
1⁄2 potato sheet
1 sachet matcha & yuzu powder blend
1 sachet honey caramelised sesame
seeds & crystallised mint blend
1 sachet candied yuzu zest • 30g MSK UltraMousse
5g MSK UltraGel 2
Zalloti Blossom
Sea Fennel
Bean Blossom
Kyona Cress
Method
Peel the plastic backing sheet from the potato sheet. Using a pair of scissors cut a 5ml strip along the long edge of the sheet. Lay this flat on a tray and lightly brush with a damp pastry brush.
You only need a little water to make it more pliable and it helps it to stick.
Lightly brush a 3cm diameter metal ring with butter and wrap the strip around. Using a paper clip fasten the 2 ends, It will form a tear shape. Place onto a baking tray and cook for approx. 5 minutes at 170°C.
Be careful they cook very quickly, you are looking for a nice golden colour.
Leave to cool.
Recipe: Vicky Endersen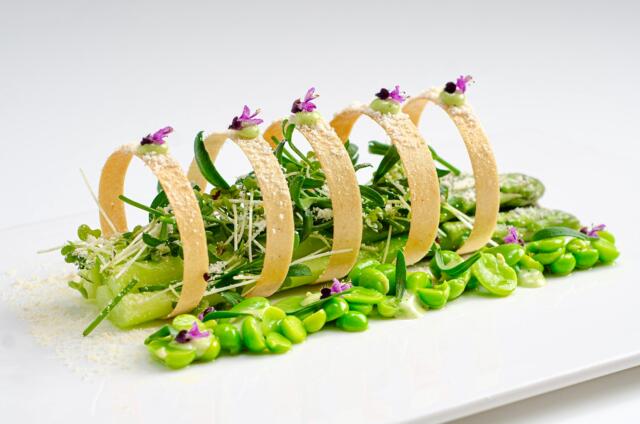 Related recipes
Gastronomical masterpieces
Related products
Say yes to the cress