Ingredients
(For 4 portions)
2 punnets Mustard Cress
100gr crushed fresh raspberries
12 whole raspberries
8 small leaves of cos lettuce
4 slices of 80gr goat cheese
250gr or 4 circles puff pastry
2 medium red onions
200ml water
2 tbsp balsamic vinegar reduction
2 tbsp raspberry vinegar
1 tbsp olive oil
Method
Cook the puff pastry in the oven with a light oven tray on top, to stop rising too much. 
Peel and slice the red onions very finely with a mandoline and cook them on a medium heat with the water and the balsamic vinegar reduction until complete evaporation of the liquid. 
Lay the 4 slices of goat cheese on a non-stick paper and cook until just melted in a hot oven. 
Take the goat cheese out of the oven and burn the top of each one with a blowtorch to give a nice smoky flavour to the cheese. 
To make the raspberry dressing, mix together the crushed raspberries, the raspberry vinegar and the olive oil. 
Place the puff pastry base at the centre of each plate and arrange a spoon of red onion on top of each one of them. 
Add the goat cheese and serve with Mustard Cress, cos lettuce, raspberry dressing and fresh raspberries. 
Recipe: Franck Pontais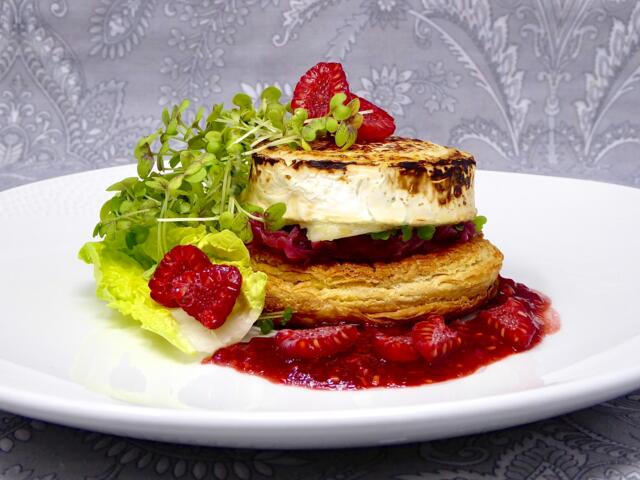 Related recipes
Gastronomical masterpieces
Related products
Say yes to the cress