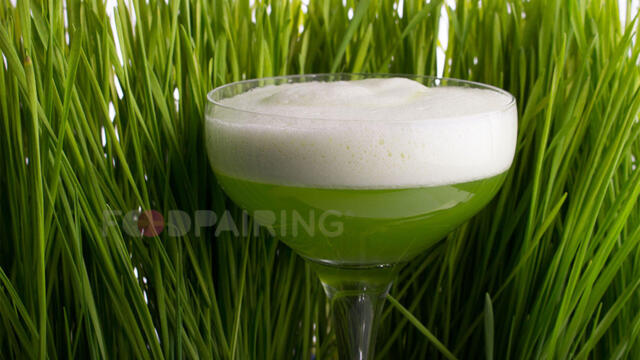 The Green Dutch Lady cocktail with Wheatgrass
Wheatgrass is the name for young wheat sprouts and has a sweetish taste.
Methode
A Genever-Wheatgrass cocktail:

Inspired by the classic White Lady, comprising of gin, Cointreau, lemon and egg whites, we've renamed our spring-themed variation. This 'Green Dutch Lady' combines Dutch genever with wheatgrass, a chlorophyll-rich super-food that gives this cocktail its vibrant green hue. Together these two ingredients share a spicy aromatic link that pairs nicely with fresh bergamot juice, ginger and even a dash of water from the North Sea (yes, really!).
The complexity of Rutte & Zn's Old Simon Genever, with its especially wide range of aromas, enables us to pair it with many different ingredients. This genever is distilled from grains, toasted hazelnuts and walnuts, herbs and juniper berries. This particular genever also has citrus-floral notes that can be found in bergamot and ginger, which add their own lovely accents to this cocktail.
Wheatgrass is the name for young wheat sprouts and has a sweetish taste. In the current health trends, Wheat Grass juice has become a very popular product, especially used for healthy drinks. This popularity is due to the high content in fibres, chlorophyll, magnesium and selenium. Wheat Grass is one of the most generous natural sources of Vitamin A, B-complex, B12, C, E and K.
Distilled from the fermented grains of malted wine, Rutte's genever production process also imparts fermented, malty notes that pair well with the crab, which contains its own nutty, popcorn-like aromas.
Lastly, to further enhance this pairing and its links to the North Sea water in our cocktail, I've added a bit of algae, which has its own green-fatty scent, to the crab meat mixture. The seaweed used here is Codium, also referred to as "dead man's fingers".
Source: Food Pairing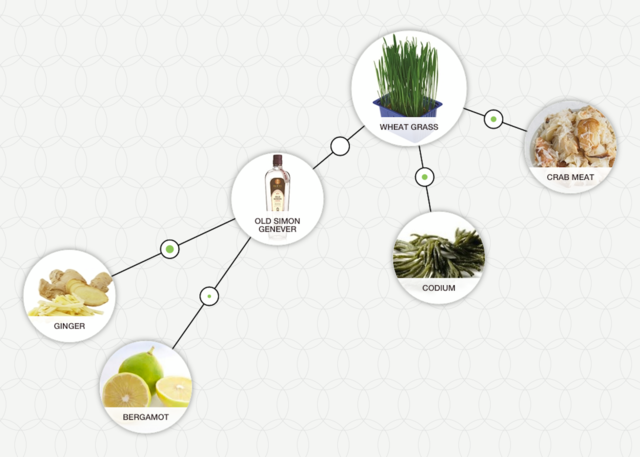 Related recipes
Gastronomical masterpieces
Related products
Say yes to the cress