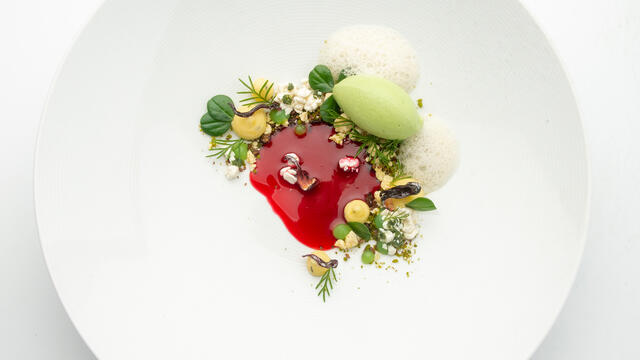 Herb garden
Grischa Herbig, chef of La Societé: "The cresses of Koppert Cress allow you to add nuances to your dishes. Sometimes refined and subtle, they always leave an unmistakable impression."
Ingredients
hibiscus blossom
Paztizz Tops®
Citra Leaves®
chartreuse ice cream
almond milk foam
pickled cherries
powdered sugar
For the Hüttenkäse:
200 g mirin
20 g sage
30 g of pickled ginger
20 g of yuzu juice
200 g cottage cheese
For the crumble:
170 g of caramelized opalys
30 g chopped dried pumpernickel
60 g coarsely ground pistachio
For the hibiscus broth:
300 g of water
15 g of dried hibiscus blossom
35 g vanilla sugar
250 g of hibiscus blossom tea
3 g guar son
10 drops of angostura
Method
Mix mirin, sage, ginger water and yuzu juice, rinse the Hüttenkäse and add to the mass. Reserve in a piping bag. Mix all the ingredients for the crumble.
For the stock, bring the water, blossom and vanilla sugar to the boil, let it steep for 30 minutes and pass through a fine sieve. Mix in the remaining ingredients and season with the angostura.
Roll the hibiscus blossom through the powdered sugar and dehydrate. Do this twice. Dress the ice cream with the cherries and the Hüttenkäse on the plate, garnish with the Koppert Cress Specialties and spoon the stock.
Paztizz Tops® is an ingredient with a pronounced anise flavour and a wide applicability. The fresh taste goes very well with fish dishes and the combination with game is without a doubt surprising.
Paztizz Tops can also be used to refine sweet dishes. Aperitif lovers experience the astonishing similarity between the taste of Paztizz Tops and that of a well-known French anise drink.
The needle-like soft leaves also give Paztizz Tops an excellent decorative value.
***

La Societé
Kyffhäuserstraße 53 – 50674 Köln, Duitsland
T 0049 221 232 464
www.restaurant-lasociete.de
Recipe: Grischa Herbig
Source: Pâtisserie & Desserts - 53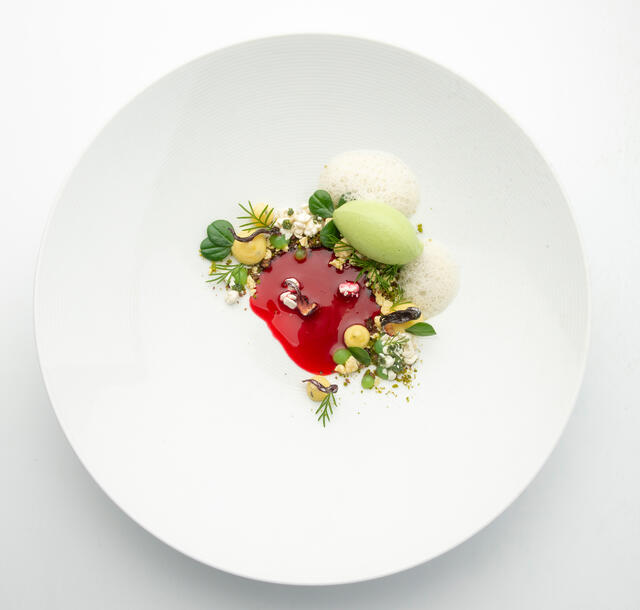 Related recipes
Gastronomical masterpieces
Related products
Say yes to the cress