Ingredients
Matcha and yuzu mousse:
7g matcha & yuzu powder blend
100g natural yoghurt
150g whipping cream
27g MSK UltraMousse
30g sugar
Lychee and jasmine jelly:
500ml lychee syrup
10 Jasmine Blossom
5g MSK UltraGel 2
10g sugar
squeeze of lemon
Method
Matcha and yuzu mousse:
In a mixing bowl combine the yoghurt, matcha and yuzu powder and sugar, stir well and set to one side.
In a separate bowl, combine the whipping cream and the UltraMousse. Whisk together using a hand whisk until the mixture thickens to a soft peak.
Add the yoghurt mixture into the cream and mix until fully combined. Pour the mousse into the desired moulds and place in the freezer.
Lychee and jasmine jelly:
In a narrow deep pan, heat the syrup and Jasmine Blossoms and allow to infuse for 30 mins. Remove the flowers and bring the syrup to the boil.
Mix together the UltraGel and the sugar and add to the boiling syrup. Allow the mixture to boil for 1 minute and remove from the heat.
Add a squeeze of fresh lemon juice to the mixture.
Finish:
Demould the frozen mousse and skewer with a cocktail stick. Dip the frozen mousse into the hot jelly mixture. The process should be done quickly to prevent the mousse from softening. Remove the skewer and place the mousse on a lined tray
Plate as desired and serve with candied yuzu zest, honey caramelised sesame seeds, crystalised mint and fresh Jasmine Blossom.
Recipe: Vicky Endersen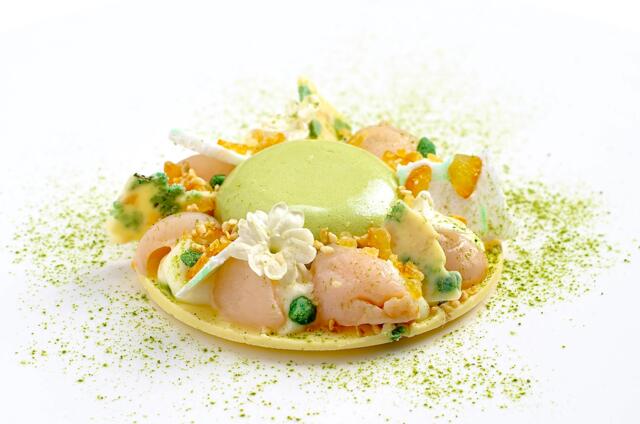 Related recipes
Gastronomical masterpieces
Related products
Say yes to the cress