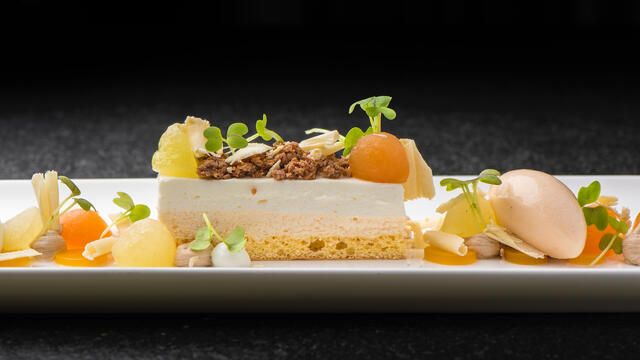 Melon, nougat, cottage cheese and Mustard Cress
Pâtissiers Marco Akuzun and Alexander Huber make recognizable, but certainly not everyday desserts at the Top Air restaurant.
Ingredients
Mustard Cress
cocoa crumble
pickled melon
melon angel
vanilla sponge cake
For lemon sorbet and melon sorbet:
225 g of milk
65 g of milk powder
205 g of cream
96 g of dextrose
65 g invert sugar
35 g of sugar
6 g stabilizer
300 g fruit puree of melon and lemon
For the nougat cream:
125 g of milk
125 g nougat
5 g of leaf gelatin
250 g of creamy cream
For the cottage cheese cream:
40 g egg yolk
25 g of sugar
4 g leaf gelatin
170 g of cottage cheese
For the nougat malto:
For the nougat mousse:
60 g egg yolk
30 g of sugar
200 g nougat de Montelimar
8 g of leaf gelatin
40 g of protein
20 g of sugar
150 g of creamy cream
For the melon and cottage cheese mousse:
100 g of melon puree
50 g of cottage cheese
40 g egg yolk
6 g of leaf gelatin
50 g of protein
30 g of sugar
150 g of creamy cream
Method
For the sorbets, mix the milk and the powdered milk. Heat the cream and add dextrose, invert sugar, sugar and stabilizer. Mix the cream mass with the milk mass, add the fruit puree per taste and turbine.
For the nougat cream, heat the milk and dissolve the soaked gelatin in it. Pour this mass over the nougat, stir smoothly, let it cool and fold in the lumpy cream.
For the cream, beat the yolks with the sugar au bain-marie, dissolve the soaked gelatin in it and fold the cottage cheese off the heat. Melt for the malto de nougat and mix with the malto to powder.
For the mousse, melt the nougat au bain-marie. Beat the yolks and the sugar ruban, add the warm nougat and dissolve the soaked gelatin in it. Beat the egg white with the sugar to peak and fold it with the cream under the nougat mass.
Cover the mould with the vanilla biscuit and pour the nougat mousse on top. Smooth and reserve cool. For the melon mousse, heat the puree, the yolk and the quark in the mix to 80˚C.
Now add the soaked gelatin. Beat the egg whites and sugar to peaks and fold it into the melon mass with the cream. Fill on top of the nougat mass and allow to cool.
Cut beautiful carrées from the mousse, dress on the plate and garnish with the other components.
***
Restaurant Top Air 
Flughafen Stuttgart, Terminal 1 
Ebene 4 – Stuttgart 
T  0049 711 9482137  
www.restaurant-top-air.de
Recipe: Marco Akuzun & Alexander Huber
Source: Pâtisserie & Desserts - 47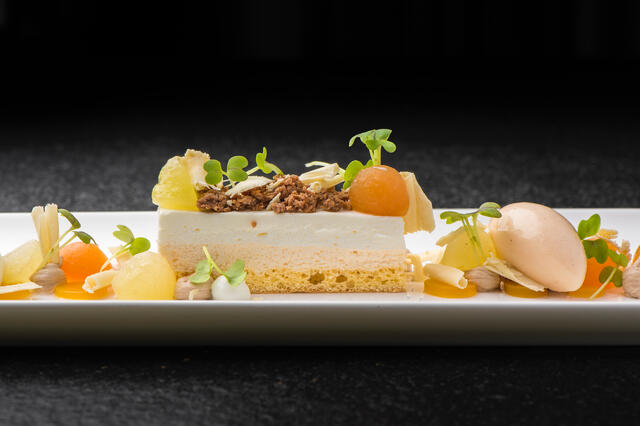 Related recipes
Gastronomical masterpieces
Related products
Say yes to the cress