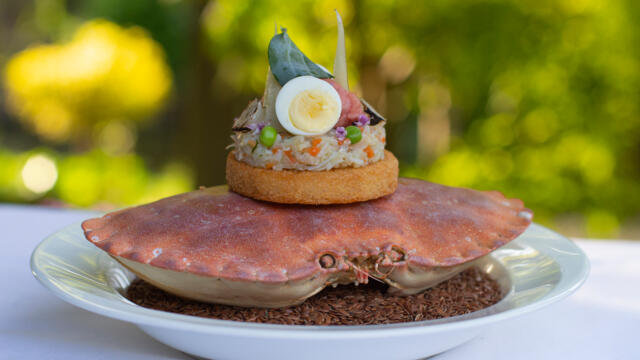 Crab salad canapé with Oyster Leaves and veal tartare with Zallotti Blossom
Ingredients
(For 4 amuses)
Crab salad: 
120g North Sea crab (clean) 
20g Basil oil 
12g balanced fine carrot brunoise 
12g balanced fine leek brunoise
salt 
3 to 4 leaves of finely chopped coriander 
1 leaf of finely chopped Oyster Leaves 
Canapé:
White bread 
sunflower oil
Veal tartare: 
100g veal fillet 
5g mayonnaise 
5g olive oil 
finely chopped capers 
mustard 
pepper 
salt 
Tabasco 
Sweet sour:
100g granulated sugar 
100g water 
100g vinegar 
3 peppercorns 
1 bay leaf 
1 piece of cloves 
½ sprig of Thyme 
Basil oil:
100g sunflower oil 
5g basil 
5g Zallotti Cress 
2 drops of Tabasco 
Garnish: 
roasted pearl onions 
little gem on sweet and sour 
Zallotti Blossom 
Oyster Leaves 
blanched garden peas
boiled quail egg
Method
Crab salad:
If fresh, cook and clean the crab.
Finely chop the coriander and cut the Oyster Leaves into julliene.
Prepare the salad.
Canapé:
Cut out the white bread with a cutter and heat a thin layer of oil in a frying pan.
Bake the bread until golden brown on both sides.
Veal tartare:
Cut the veal fillet into fine brunoise.
Season this with the ingredients.
Sweet sour:
Put all ingredients in a pan and bring to a boil.
Cover the pan and let it cool down and soak overnight.
Strain this the next day and keep the liquid to make the little gem.
Basil oil:
Put all ingredients in the blender and let it run for a few minutes.
Pour everything into a container and leave it covered in the refrigerator overnight.
Pass this the next day.
Finish:
Press the crab salad in a smaller plug than the one used for making the canapé and add it directly onto the canapé.
Make a canelle of the veal tartare and place it on the crab salad.
Garnish the canapé as you see fit.
Recipe: Bas Vester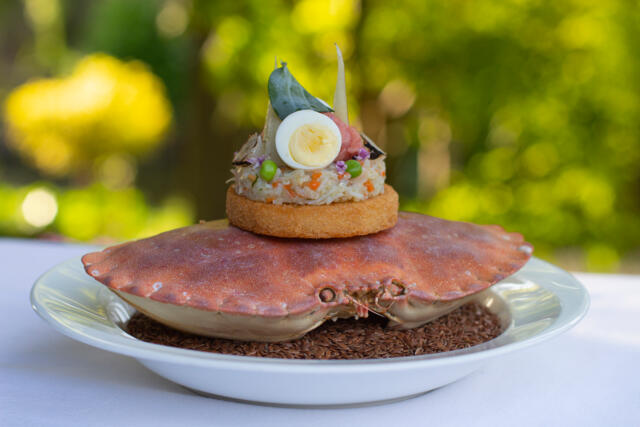 Related recipes
Gastronomical masterpieces
Related products
Say yes to the cress