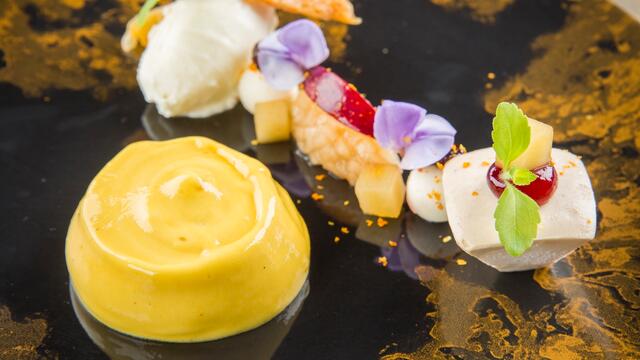 Mango mousse, nougat and celeriac ice cream
Alexander Wulf of the St. Jacques restaurant: "It takes some intelligence from the chef, but once you have discovered the possibilities and the flavours of the cresses are etched in your memory, the Cressperience for the guests can begin."
Ingredients
pickled mango cubes
tuile of almond
fresh plum slices
Atsina® Cress
Bean Blossom
gel of "Morsl"
For the mango espuma:
5 dl juice of pear and mango
5 leaves of gelatin
For celeriac ice cream:
1.25 l cream
75 cl milk
3 celery tubers
2 tbsp glucose
80 g of sugar
For the plum compote:
1 dl plum juice
10 plums
1 vanilla pod
80 g of sugar
6 cl lemon juice
1 cinnamon stick
For the nougat mousse:
1 orange
2 eggs
200 g nougat
400 g of lumpy cream
Method
For the espuma, heat part of the juice, dissolve the soaked gelatin in it, mix with the rest of the juice, fill a siphon and aerate with two cartridges. Peel the celeriac and cut into brunoise.
Bring the cubes to a boil with the milk and cream and infuse cool for 1 day. Pass the mass through a fine sieve, bring to a boil briefly with the glucose and sugar, cool and turbine.
Wash, peel and deseed the plums. Cut into slices, bring to the boil with the other ingredients and allow to cool. Melt the nougat.
Make an anglaise from the juice and grate the orange with the egg, mix with the nougat and fold in the lumpy cream. Fill the mass into shapes. Spray the espuma centrally on the board using a ring.
Dress the other components around it and finish with the celeriac and Cress ice cream.
***
Burgstuben Residenz
Feldstrasse 50 – Heinsberg-Randerath
T  0049/245 330 6980
www.burgstuben-residenz.de
Recipe: Alexander Wulf 
Source: Pâtisserie & Desserts - 52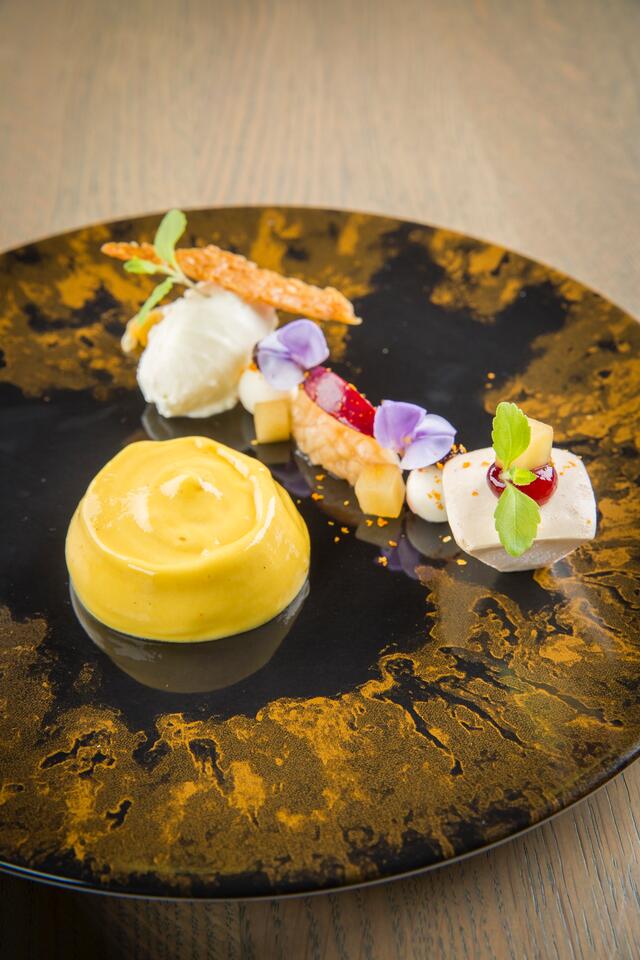 Related recipes
Gastronomical masterpieces
Related products
Say yes to the cress