Ingredients
Norway lobster 
Lavender butter with maple syrup 
Lavender oil 
Apple - crustacean reduction 
Horseradish 
Apple Blossom 
Norway lobster:
Norway lobster 
Wooden skewers 
butter 
dried lavender 
Maple syrup 
Maldon salt 
Lavender oil:
100g neutral oil 
5 g dried lavender flowers 
Apple reduction:
Apple juice 
Shellfish - carcasses 
salty butter 
Vinegar gel:
200g water 
200g white wine vinegar 
200g sugar 
7 g agar 
Miscellaneous:
Method
​Norway lobster:
Warm the butter with a little dried lavender and let it steep. Then strain the lavender and season the butter with maple syrup. Release the Norway lobster and skewer straight on a wooden skewer, vacuum seal and cook for 2 minutes at 70°C. Then fry in a hot pan, remove, remove from the skewer and brush generously with the butter, season with salt.
Lavender oil:
Vacuum the oil with lavender and let it steep for 3 hours at 70°C in the sous vide basin. 
Apple reduction:
Put the apple juice and the peel of the Norway lobster in a small saucepan and let simmer until the apple juice is reduced to a third. Emulsify salty butter until a creamy sauce is formed. 
Vinegar gel:
Bring all ingredients to the boil until the sugar and agar dissolve. Pour into a shallow container and allow to cool. Leave and mix to a gel. Pass and vacuum seal. 
Recipe: Sandra Scheidl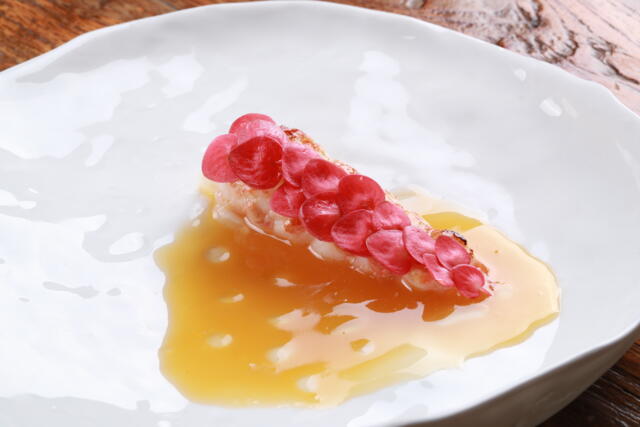 Related recipes
Gastronomical masterpieces
Related products
Say yes to the cress