Ingredients
(For 4 portions)
4 golden apples 
2 oranges 
2 tbsp caster sugar 
500ml water 
80g raisin sultana
50g red quinoa
1 punnet Atsina Cress 
Method
Soak the sultana in freshwater overnight.
Peel and dice the apples.
Place in a saucepan with the sugar, water, the juice and zest of one orange.
Bring to simmer and let cook for 5 minutes, take off the heat and cover the pan, let cool down on its own.
Cook the red quinoa in cold water.
Drain the cooked diced apple keeping the juice.
Using a mixing bowl, mix together the cooked apples, the cooked red quinoa, the soaked sultanas, the zest of the second orange and one punnet of freshly cut Atsina Cress.
Gather the orange wedges from the remaining orange and dress the plate or serve as a healthy fruit salad.
Recipe: Franck Pontais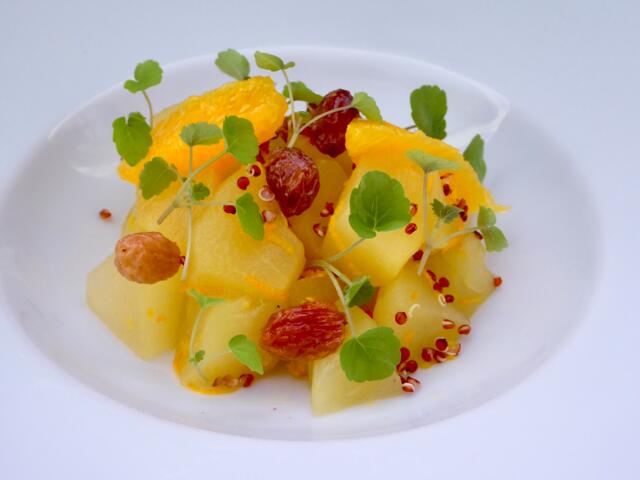 Related recipes
Gastronomical masterpieces
Related products
Say yes to the cress