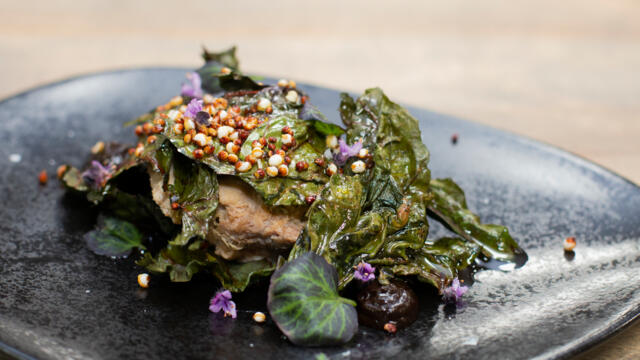 Pork and gin rillette with crispy chard, toasted quinoa and black garlic
Ingredients
6 to 8 pieces of Hippo Tops (for 4 portions plated) 
4 pieces of Zallotti Blossom (for 4 portions plated ) 
1kg of skinless, boneless pork shoulder, cut into 1" chunks 
500g of pork belly, skin removed and reserved, meat cut into 1" pieces 
3 cloves of garlic roughly chopped 
A generous splash of Sloe Gin 
4 sprigs thyme 
3 bay leaves 
sea salt 
freshly ground nutmeg 
fresh lemon juice 
3 Chard leaves stem removed (just the leafy bit left) 
50g toasted quinoa 
1 tsp of black garlic puree 
Method
Preheat oven to 135°. Place pork shoulder and belly and skin in a large saucepan. Add the chopped garlic, gin, thyme and bay leaves and add ½ cup water. Cover and braise until the meat is falling-apart and fat is soft, 2 ½–3 hours. Remove from oven, take out thyme and bay leaves and let meat rest until cool enough to handle. 
 
Using a slotted spoon, transfer meat and skin to a large bowl; pour fat and any cooking liquid in pot into a heatproof measuring cup (you should have about 130g). now turn the oven up to 185°C.
 
Shred your meat, do not hold back. Pour 100g of the reserved fat and mash the meat a little bit more—mixture should look like a thick paste. Season with salt, nutmeg, and a splash of lemon juice, which will temper the richness of the meat. Taste and season your mix. 
 
Pack your rillette in an airtight container or Kilner jars ready for when you want to serve. 
 
Gently dress your chard leaves in rapeseed oil and cook in the oven for 4-5 minutes so that they crisp up but don't lose their colour. Remove from oven and sprinkle with a little salt to help it stay crunchy. Break up the chard into rectangles of about 2"x1".  
 
Place a piece of chard on the plate, top with your pork rillette, now cover the pork with pieces of crispy chard to cover, add a few small dots of black garlic puree, top with toasted quinoa, a sprinkle of sea salt, a few leaves of Hippo Tops, a few flowers of Zallotti Blossom and serve. 
Recipe: Daniel Britten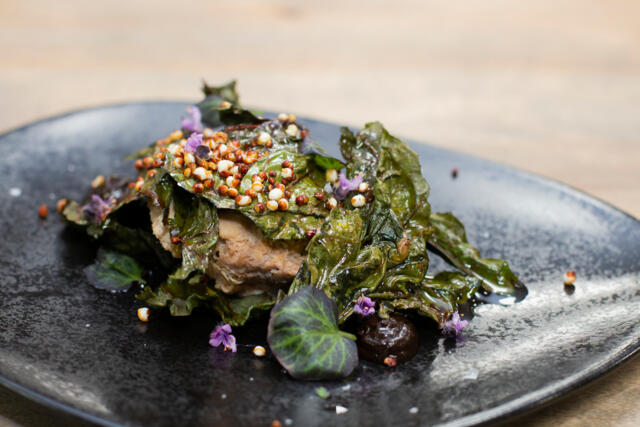 Related recipes
Gastronomical masterpieces
Related products
Say yes to the cress