Ingredients
(For 4 portions)
2 punnets BroccoCress
1 punnet Rock Chives
24 pieces of finly sliced potatoes
8 small to medium eggs
120g blanched broccoli flowers
40g butter
100ml vegetable stock
4 tsp vegetable oil
4 small pieces of green cabbage wedges
Yoghurt sauce:
1 tsp chopped Rock Chives
60g thick yoghurt 
Lime juice from ½ lime 
4 pinches chilli Flakes
Method
For optimal results the best is to use a blini pan. 
Melt the butter and oil in the hot non-stick blinis pan.
Divide the potato slices into four and lay each portion at the bottom of each pan. 
While the potatoes are cooking, whisk together the eggs with one punnet of chopped Brocco Cress. 
Pour the omelette mix on top of the sizzling potatoes and put the pans in the oven to finish to cook. 
Braise the cabbage wedge with the rest of the butter and the vegetable stock. 
Serve with the grated boiled eggs, the rest of the cresses, the yogurt dip and the broccoli fleurettes. 
Yoghurt sauce:
Mix all the ingredients together except the chilli flakes, place next to the omelette on the plate and add a pinch of chilli flakes on top. 
Recipe: Franck Pontais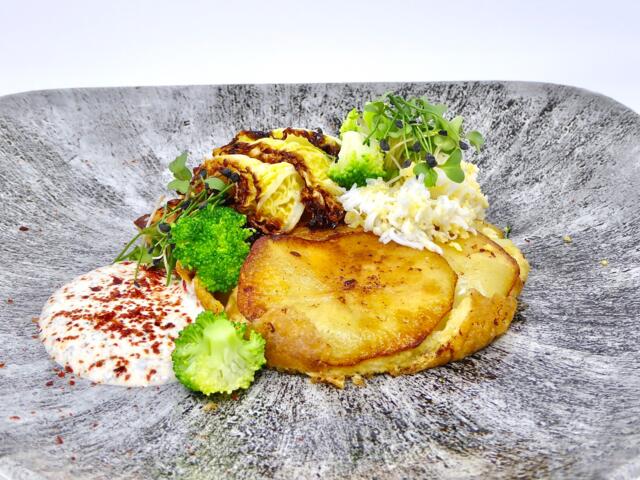 Related recipes
Gastronomical masterpieces
Related products
Say yes to the cress