Ingredients
(For 4 portions)
Vegetables:
2 punnets Atsina Cress
1 punnet Rock Chives
4 small fennel bulbs
2 tbsp olive oil
1 medium red onion
2 lemons
6 small cloves of garlic
2 pinches white ground pepper
White beans and miso sauce:
250gr cooked white beans
150ml vegetable stock
1 tbsp miso paste
10 gr butter
Method
Vegetables:
Preheat the oven to 180℃. 
Peel and cut the red onions into wedges. 
Cut the fennel bulb into two longwise. 
Using a non-stick pan, sear the fennel face down with the olive oil until coloration then transfer into a baking tray with the red onions and garlic. 
Roast for 20 to 25 minutes. 
Meanwhile, cut each lemon a half and chargrill each half face down on a hot grill. 
White beans and miso sauce:
Blitz all the ingredients together and pass through a fine sieve. 
Bring the sauce to simmer in a small pan and incorporate the butter toward the end. 
Wisk for a few seconds to give a nice shine to the sauce and serve with the vegetable immediately. 
Plating:
Pour the white bean sauce in the middle of the plate and arrange the roasted vegetable on top with one half chargrilled lemon for each plate. 
Add the freshly cut Atsina Cress and Rock Chives, serve.
Recipe: Franck Pontais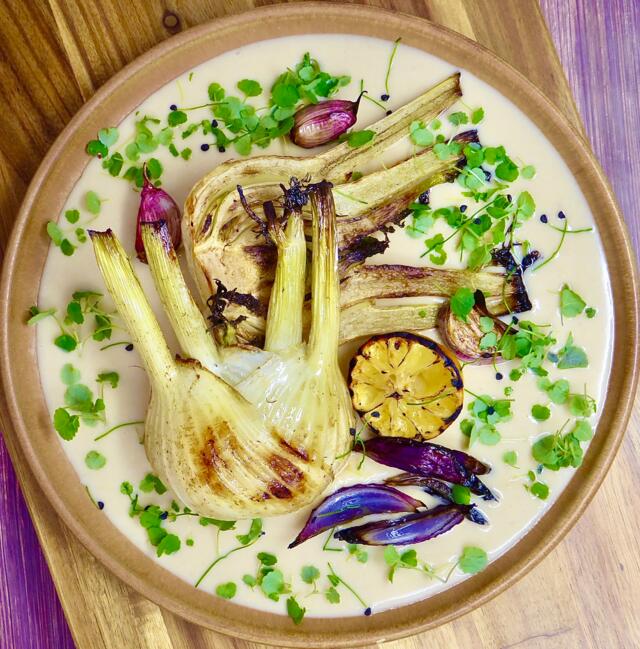 Related recipes
Gastronomical masterpieces
Related products
Say yes to the cress