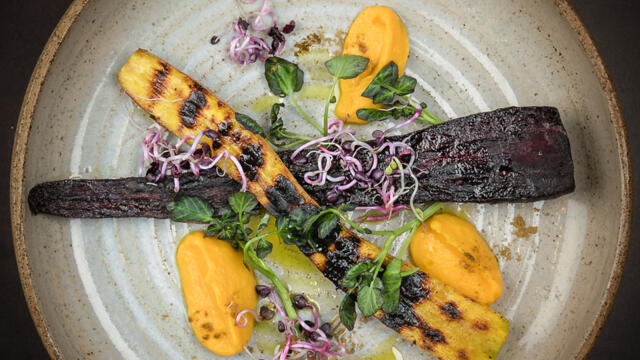 Roasted winter carrot with cumin, radish sprouts and Hippo Tops
,
Frank Fol – The Vegetables Chef®
Ingredients
(For 4 portions)
2 large yellow carrot
2 large blood carrot
2 garlic cloves
Cup of purple radish sprouts
Cumin powder verstegen
Olive oil Iluigi
150 g bio légumaise carrot with ginger
Cup of Hippo Tops - Koppert Cress
Black pepper Verstegen
Coarse sea salt Verstegen
Method
Carrot:
Peel and wash the carrots.
Cut in half lengthwise. Season firmly with sea salt, black pepper and cumin powder. Now add some olive oil and pressed garlic.
Mix everything well. Place on the BBQ, not in full heat.
Cook for about 30 to 40 minutes.
Turn regularly so they don't burn.
To finish off:
Place on each plate a half, warm carrot of each variety
Spoon 3 scoops of légumaise. Divide some shoots and Hippo Tops over this.
Finish with a few drops of olive oil and some cumin powder.
Recipe: Frank Fol - The Vegetables Chef®
Photo: Wim Demessemaekers, Photographer | @wim_dmskrs
Preparation time: 45 minutes 
Techniques: veggies 
Plate: Wild White Plate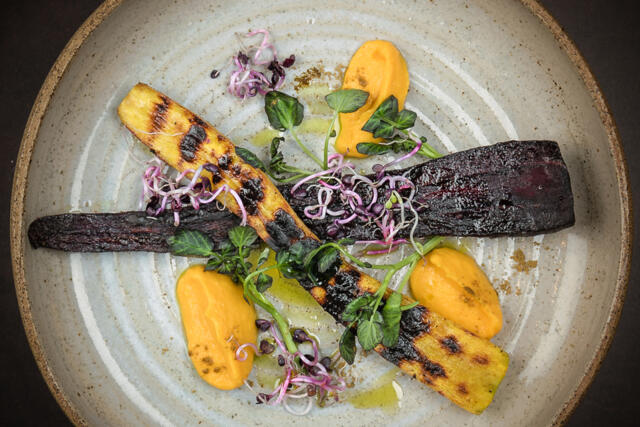 Related recipes
Gastronomical masterpieces
Related products
Say yes to the cress