Ingredients
For 4 portions
12 pieces Hippo Tops
½ punnet Shiso Purple
80g (240g once cooked) rustico rosso, riso gallo  
40g dried black Fungus mushroom  
80g beef filet
2 medium tomatoes  
4tsp soured cream
1tbsp chilli oil  
1tbsp, to dust cornflour
seasoning 
oil for frying 
Method
Soak the dried black Fungus mushrooms for 1 hour in clear cold water. 
Roll the small piece of beef into a cling film to make a cylinder place in the freezer. 
Cook the rustico, riso gallo rice, drain and reserve. 
Blanch and peel the tomatoes, cut into 4 wedges, and deseed. 
Bring the frying oil to 200°C, drain, and dry the mushrooms between two pieces of tissue paper, then dust them in cornflour and fry then for 30 seconds. 
Cut some very fine slices of the frozen beef, reserve. 
Season the rice and toss in the chilli oil. 
Build up the plate with all the ingredients, adding the sour cream at the end. 
Serve.  
Recipe: Franck Pontais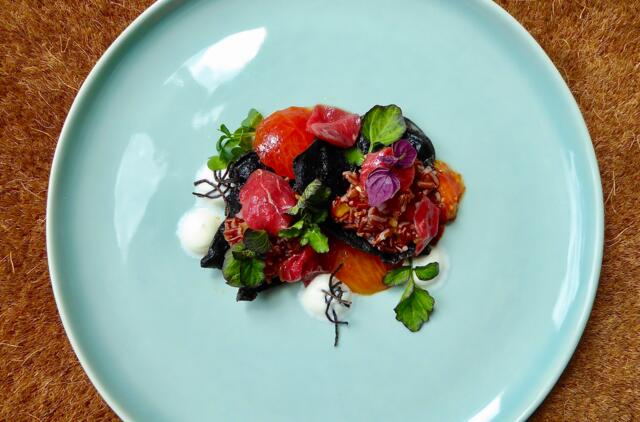 Related recipes
Gastronomical masterpieces
Related products
Say yes to the cress