Ingredients
(For 4 portions)
1 punnet Kyona Mustard Cress
1 punnet Zorri Cress
700g peeled salsify
juice from ½ lemon
100ml milk
1 liter water
1 pinch sea salt
20g roasted almonds
2 tbsp hazelnut oil
½ cider vinegar
2 pinches cracked black pepper
Method
Bring the water with the salt, lemon juice and milk to boil. 
Cut the peeled salsify to size and blanch them in the cooking liquid.  Once "al dente" take the pan off the heat and leave them in the cooking juice to cool down by themselves. 
Once cold, drain the salsify and put them in a mixing bowl. 
Cut half of the leaves of the Zorri Cress into very fine julienne and add them to the bowl with the Salsify. 
Make an emulsion by whisking together the hazelnut oil with the cider vinegar and pour on top of the salad. 
Add the roasted almond to the mix with the freshly cut Kyona Mustard Cress, the rest of the Zorri Cress and the black pepper. 
Fold gently together and serve. 
Recipe: Franck Pontais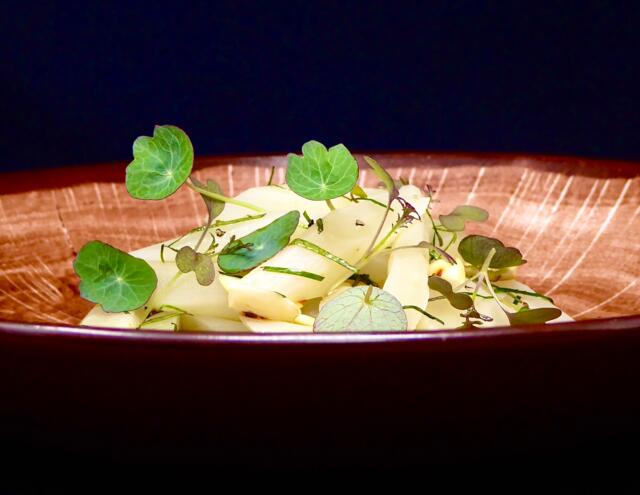 Related recipes
Gastronomical masterpieces
Related products
Say yes to the cress