Ingredients
(For 4 portions)
240gr cooked seasoned sushi rice
4 pieces scallop shell
8 pieces scallop
1 small mild red chilli
1 lime
1 tbsp olive oil
1 tbsp sesame oil
1 tsp fresh ginger juice
4 Bean Blossoms
4 BlinQ Blossoms
1 punnet Adji Cress
1 punnet Gangnam Tops
Method
Using the seasoned cold sushi rice, fill up to level and flatten. 
Slice the scallops into thin rounds, about ½ cm (¼ in) thick if possible.  
Lay slices, in one layer on top of the rice. 
Make some zest out of the lime and keep aside. 
Using a mixing bowl, whisk together the juice of the lime with the ginger juice, the olive oil, and sesame oil. Let set for 5 minutes and brush the top of the scallops. 
Add some finely sliced red chillies and the zest of the lime. 
Add the Adji Cress, Bean Blossom and BlinQ Blossom. 
Serve with the Gangnam Tops. 
Recipe: Franck Pontais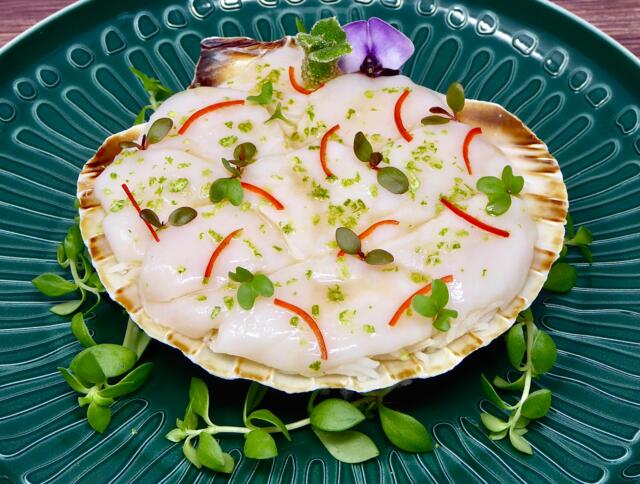 Related recipes
Gastronomical masterpieces
Related products
Say yes to the cress