Ingredients
(For 1 portion)
Poached scallops:
250ml fish stock
3 fresh scallops
pinch of salt
Blackberry vinaigrette:
50g blackberries
a dash of cider vinega
 ½ tsp Dijon mustard
1 tsp icing sugar
3 tbsp olive oil
season to taste
Shiso Purple
Method
Poached scallops:
Pour the stock and add the fresh scallops to the saucepan. Start from cold and bring to simmer.
Turn off the heat and leave to cook. Cover for another 5 minutes.
King Edwards's potato in beetroot Jus:
Peel and reserve the potato for few hours in beetroot water.
Reserve half the beetroot juice and cook the potato whole in the other half of the beetroot water.
Once it is cooked, take it out of the hot beetroot water and place directly in the reserved cold beetroot water and reserve in the refrigerator overnight.
Slice. 
Blackberry vinaigrette:
Place blackberries, cider vinegar, Dijon mustard and icing sugar in a bowl.  
Blitz with a hand mixer while slowly pouring olive oil to make an emulsion.  
Season to taste and pass through a chinois.
Finish with Shiso Purple.
Recipe: Franck Pontais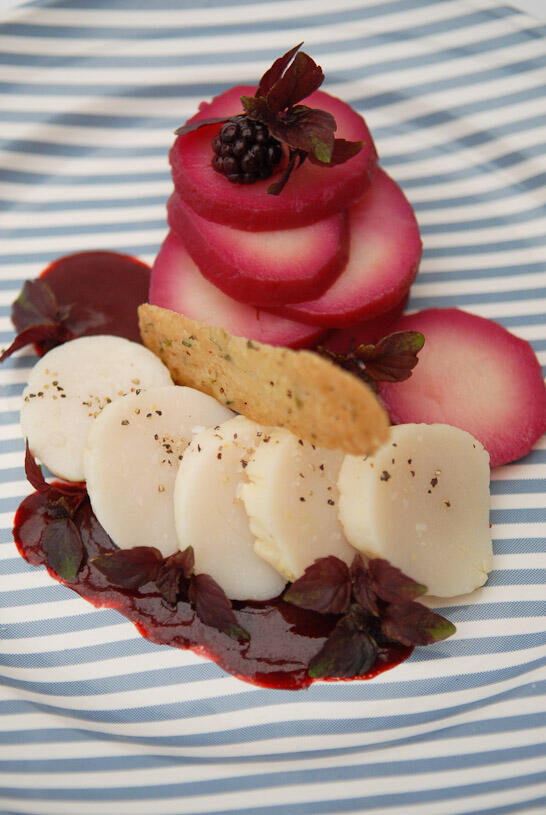 Related recipes
Gastronomical masterpieces
Related products
Say yes to the cress