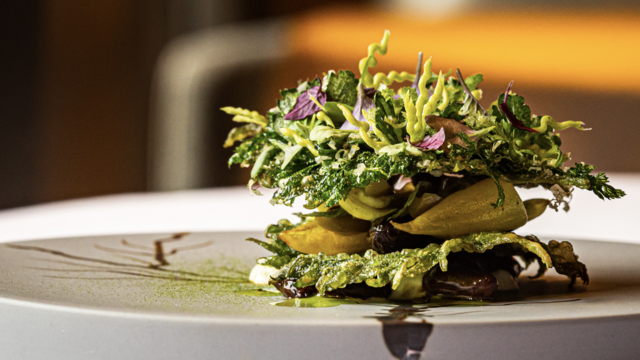 Shiso, chicory, turmeric, green olive, morilla, and Boeren Goudse cheese
Ingredients
Shiso Leaves:
4 Shiso Leaves Green (Koppert Cress)
30g parsley powder
10g vinegar powder
3g salt
Beer dough:
525g rice flour
195g flour
30g trisol
48g baking powder
500g white beer
2g salt
Pickled morel:
15g small dried morel
150g Shiso vinegar
1.1g xanthan
15g butter
Chicory, turmeric butter:
125g goat butter
15g grated turmeric
4 chicory
Yogurt cream:
300g of Greek yogurt
1g of citric acid
10g olive oil
2g of salt
2g garlic
Smoked Boeren Goudse:
500g of Boeren Goudse cheese
Juniper moth
Sweet-sour Gordal Green Olives:
10l of natural vinegar
6.6 liters of water
3kg. sugar
5 bay leaves
10g of black pepper in grains
10 large jars of pitted Gordal olives
Garnish:
sliced fresh Shiso Green
fresh chervil
fresh parsley
Shiso Green
Shiso Purple
Method
Dough with Shiso Leaves and beer:
Mix all ingredients together and leave for 1 day.
Dip Shiso leaves in beer batter and deep fry at 160°C until golden.
Then season them with parsley powder, salt and vinegar powder.
Pickled morels:
Soak morels for 1 night in Shiso vinegar.
Drain all the liquid from the morel.
Bind the liquid with xanthan.
Morel stew in vinegar and butter until a nice glassy mass is obtained.
Chicory, turmeric butter:
Mash turmeric into goat butter and set aside in a warm place for 5 hours.
Cut off the base of the chicory and cut it into nice spikes.
Separate the turmeric from the goat butter and cook the chicory at low heat in the goat butter.
Yogurt cream:
Mix all the ingredients and add the grated garlic to the finished mass.
Smoked Boeren Goudse:
Cut the cheese Boeren Goudse into small cubes and smoke it cold for about 10 minutes.
Sweet and Sour Gordal Green Olives:
Add all ingredients to a saucepan and heat until sugar dissolves, then cool.
Cut Gordal olives into pieces and leave to marinate in a sweet and sour marinade for 48 hours.
Recipe: Sidney Schutte - restaurant Spectrum - Amsterdam
Magazine: BCBG Magazine
Photography: LVFfood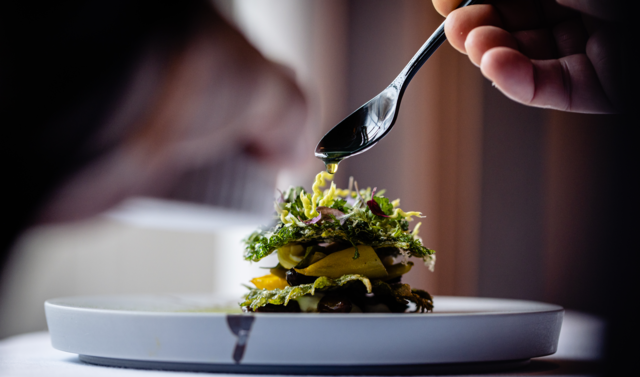 Related recipes
Gastronomical masterpieces
Related products
Say yes to the cress