Ingredients
(For 4 portions)
1 punnet Garden Cress
1 punnet Adji Cress
2 medium finely sliced white onions
450g spinach gnocchi
240g julienne of yellow peppers
240g tomatoes
500ml vegetable stock
200ml tomato passata
1 tbsp olive oil
1 tsp finely chopped garlic
1 tsp hot curry powder
4 small tbsp mascarpone 
4 thick slices of ciabatta bread
Method
Pour the oil in a large saucepan. 
Once hot, add the white onions and the julienne of peppers. 
Cook for 2 minutes and add the tomatoes cut into wedges. 
Cook for another 2 minutes and add the garlic, the vegetable stock, the passata sauce and the curry powder. 
Let cook and reduce for 5 minutes and add the spinach gnocchi.  
Fold gently half of the Garden Cress and Adji Cress toward the end of the cooking process and rest aside for few minutes. 
Meanwhile, cut and chargrilled the slices of ciabatta bread. 
Serve in a casserole with the mascarpone, the slice of bread and the rest of Adji Cress and Garden Cress. 
Recipe: Franck Pontais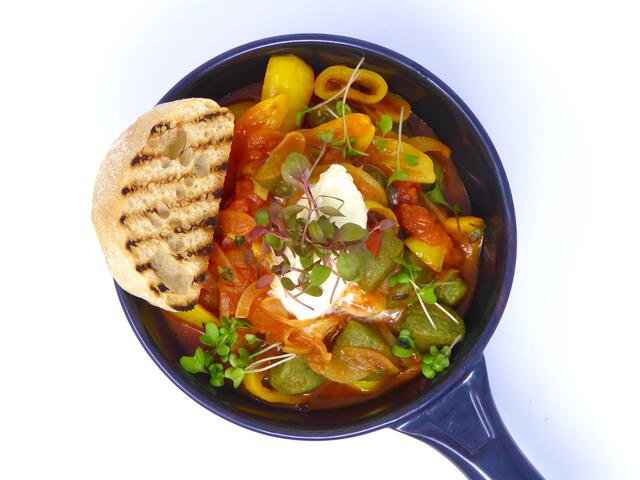 Related recipes
Gastronomical masterpieces
Related products
Say yes to the cress