Ingredients
250g unsalted butter
3 punnets Tahoon Cress
175ml grapeseed oil
a pinch sea salt
Method
For the butter:
Ensure butter is at room temperature.
Using a high-speed blender, (nutribullet type), blend the Tahoon Cress with the oil at high speed for about 1 minute or until the container of the machine gets warm. This will create an emulsion.
Place a paper coffee filter in a sieve above a bowl; pour the oil into the filter.
Leave to pass gently until you are left with just the pulp in the filter.
Retain the oil for dressing other dishes or serve in a separate bowl as a dip for the bread. 
Take ¾ of the Tahoon Cress pulp and whisk gently into the softened butter. Keep in the fridge until set.
For the Tahoon Cress flakes:
Wrap a dehydrator tray with cling film.
Spread the remaining pulp evenly on to the tray and dry for a minimum of 3 hours at 55°C.
To serve:
Make a quenelle of butter, sprinkle sea salt on top and arrange with some pieces of dry flaked Tahoon Cress pulp.
Serve with warm rustic bread.
Recipe: Franck Pontais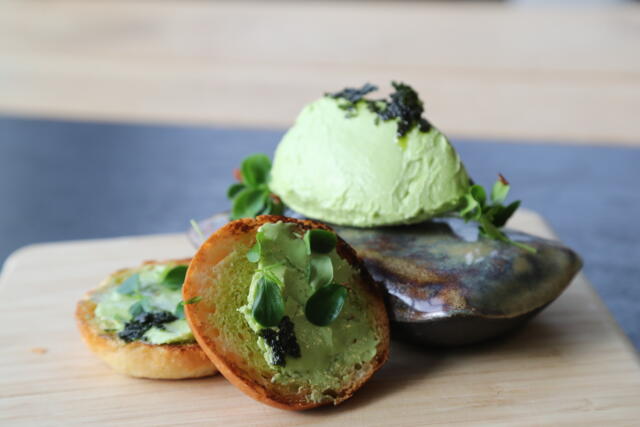 Related recipes
Gastronomical masterpieces
Related products
Say yes to the cress