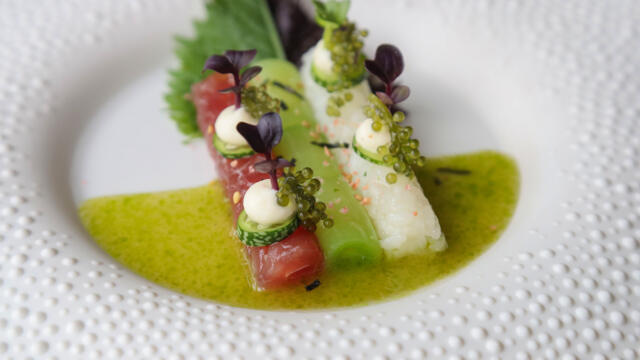 Tuna, sticky rice, cucumber
Ingredients
Tuna:
150g tuna saku block
10ml white soy sauce
Cayenne pepper
0.5g pepper
Rice:
150g sticky rice (short grain)
150g water
10g salt
15g sushi vinegar
Cucumber:
1 cucumber
10g salt
10g irizake
Gelled fund:
½ cucumber
3 tomatoes
1 stick of celery
2g xanthan gum
5g salt
10ml sesame oil
10ml herbal oil
Herbal oil:
10g tarragon
10g chervil
10g leaf parsley
100ml grapeseed oil
Sesame cream:
80ml milk
50g sesame paste
120g grapeseed oil
4g salt
2g white soy sauce
Set:
4 Pepquiñoes
2 Moai Caviar
Shiso Leaves Green and Shiso Leaves Purple
Daikon Cress 
Sakura Cress
Method
Tuna:
Use a slicer to cut the tuna into strips 1 cm thick and process it into tartare.
Season with the mentioned ingredients and fill it into a piping bag, place rolls of 1cm diameter on transparent film and roll up and freeze.
Rice:
Wash the sticky rice thoroughly until the water is clear.
Then put the rice in the rice cooker with the same amount of water.
Then season with salt, vinegar and roll in the same size as the tuna tartare.
Cucumber:
Peel the cucumber and use the peeler to cut long loops.
Blanch the cucumbers briefly in saltwater and quench in ice water.
Marinate with irizake and roll in the same size as the tuna and rice.
Gelled fund:
Mix all the ingredients and let them run through a hair sieve in about 30 minutes and lightly set with xanthan gum.
To finish, disperse the stock with sesame and herb oil.
Herbal oil:
Heat the grapeseed oil in the Thermomix to 60℃ and briefly mix in the herbs at a high level.
Then quickly pass through a hair sieve and stir cold on ice.
Sesame cream:
Put the milk, sesame paste and spices together in a beaker and slowly emulsify with the oil.
When you have the desired consistency, fill into a squirt bottle.
Set:
4 Pepquiñoes
2 Moai Caviar
Shiso Leaves Green and Shiso Leaves Purple
Daikon Cress 
Sakura Cress
Recipe: Andre Wolff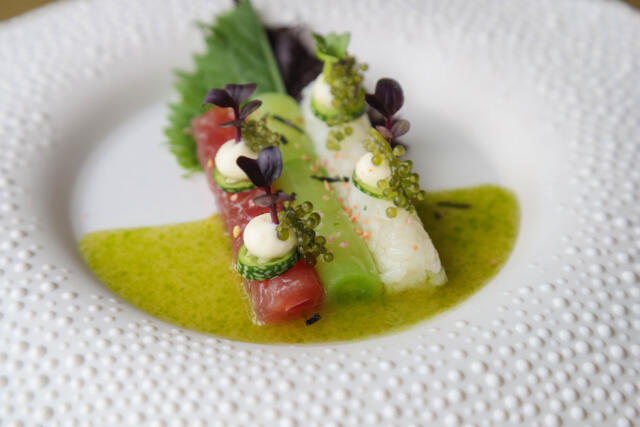 Related recipes
Gastronomical masterpieces
Related products
Say yes to the cress