Ingredients
Boiled beef (German: Tafelspitz)
Oxtail:
1kg oxtail
0.5kg onions
0.2kg carrot
0.2kg of celery
3l red wine
1l port wine
0.1kg tomato paste
Salt pepper
thyme
rosemary
laurel
garlic
Yellow beets:
5 yellow mini beets
salt
Aluminum foil
Carrot paper:
Edible paper
Cookie cutter
Tartlet form
Frying fat
Mashed potatoes:
0.3kg potatoes
0.1l cream
0.3kg butter
salt
nutmeg
Boletus:
2 porcini mushrooms
salt pepper
30g butter
1 clove of garlic
Method
Tafelspitz:
Cut a steak of approx. 200g against the fibers, season with salt and pepper.
Let the pan get hot and fry the meat vigorously on all sides.
Then put the meat in a preheated 100°C oven and cook for about 10 minutes.
Oxtail:
Cut the oxtail, season and fry in a roasting pan.
Remove from the roaster and roast the vegetables in the same roaster and then tomato.
Add the oxtail and fill up with the red wine. Add the spices and then cover them and stew them in the oven at 175°C for about 3 hours.
Then take the oxtail out of the stock, clean it from the bone and put it to one side.
Strain off the remaining stock, degrease and reduce until the desired consistency is achieved, if necessary, set with a little xanthan gum.
Yellow beets:
Wash the yellow beetroot thoroughly, season with salt and wrap in aluminum foil.
Cook at 180°C for about 35 minutes.
After cooking, let the beets cool in the aluminum foil and simply peel off the skin with kitchen paper.
Carrot paper:
Shape the edible paper with the help of a cutter and deep-fry for 5 seconds.
Then quickly press between 2 tartlet molds.
Mashed potatoes:
The first thing to do is to make nut butter, we put a saucepan with the butter on it and let it slowly caramelize until it has a golden-yellow color. Let it rest for a moment and separate the dark whey from the fat so that you have the clear, particle-free nut butter.
Peel the potatoes and cook them in salted water until soft. Press through a potato press 2 times and mix with salt, nutmeg and hot cream, fold in the nut butter and set aside.
Boletus:
Clean the boletus with a damp sponge and let the pan get hot. Fry all ingredients in the pan and fry the porcini mushrooms until golden-yellow. Then place them dry on a cloth.
Serving:
Fill the tartelette with the puree, put some oxtail on top and place the Hippo Tops on top.
Place the beets in a circle and decorate with Aikiba Leaves.
Cut the picanha against the fibers and place in the middle of the plate, next to it the porcini mushroom and the sauce.
Recipe: Andre Wolff - Rungis Express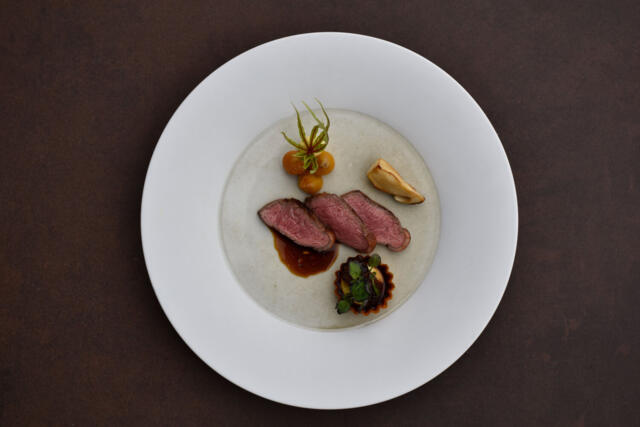 Related recipes
Gastronomical masterpieces
Related products
Say yes to the cress