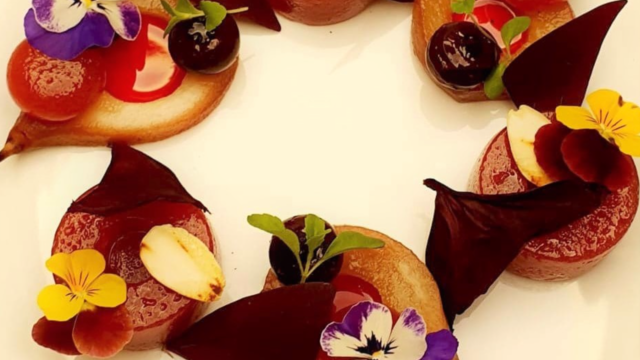 Ingredients
Poached Pears:
2 small, firm pears
750ml water
250ml white wine
300g sugar
1 cinnamon stick
2 star anise
1 vanilla pod
2 cloves
Pomegranate & Yka Leaves jelly:
3 large pomegranates or 300ml fresh pomegranate juice
100ml Yka Leaves® syrup
2.4g xantham gum
2.4g agar agar
Yka Leaves syrup:
100g sugar
150ml water
10 Yka Leaves
Toasted almonds: 
Dehydrated Yka Leaves:
Vanilla mascarpone: 
100g mascarpone
1 vanilla pod
20g icing sugar
1/4 lemon squeezed
Plating:
2 different punnets Cornabria Blossom®
1 punnet Honny® Cress
1 punnet Vene Cress
Method
Dehydrated Yka Leaves: 
Firstly separate the three leaves from five individual Yka Leaves® and lay flat on a dehydrator tray. Add an additional mesh to sandwich them between and dehydrate at about 45°C for a few hours.
Poached Pears:
Combine pear poaching liquor ingredients and bring to the boil. Peel pears and poach gently for about 20 minutes. They should be tender but still firm enough to handle. Leave to cool in the liquid.
Yka Leaves Syrup:
Combine the sugar and water for the Yka syrup and bring to the boil, whisk in 10 individual Yka Leaves and continue whisking until the colour has been imparted but before they turn brown, strain through a chinois and leave to cool.
Yka Leaves & pomegranate jelly:
Blend together 100ml of Yka syrup with the 300ml pomegranate juice. Using a stick blender, disperse Agar-Agar into the liquid. Pass through a fine strainer and skim off the bubbles. You can also vacuum seal to remove bubbles.
Bring mixture to the boil (above 90C) and then leave to cool slightly. Using the stick blender, add the Xantham. Leave the mixture to settle for a few minutes and then skim off any residual bubbles or foam.
Pour mixture into silicone moulds of your choosing, preferably 2 different shapes and sizes. Set in the fridge until needed.
Vanilla Mascarpone:
Scrape the vanilla pod and mix together with the icing sugar and mascarpone.
Toasted Almonds:
Toast or caramelise almonds ready for plating.
Yka Leaves Powder:
Blend or crumble a few dehydrated Yka Leaves and pass through a sieve to form a powder.
Recipe: Jacques Cresser Brown 
Source: Staff Canteen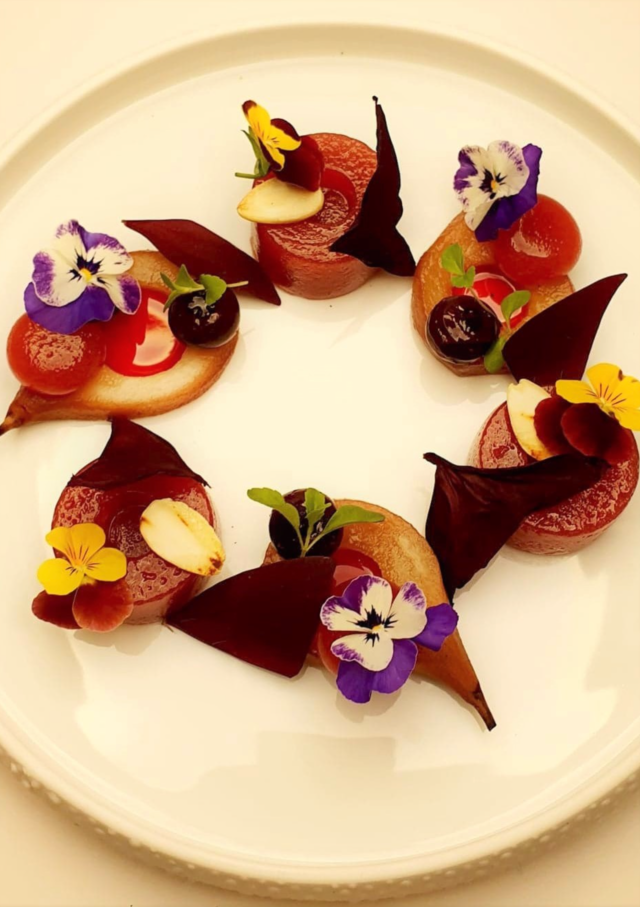 Related recipes
Gastronomical masterpieces
Related products
Say yes to the cress