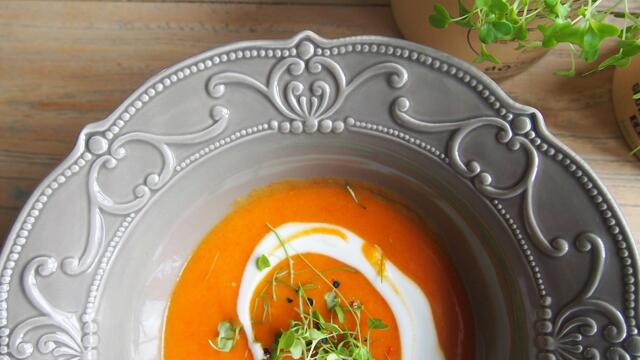 Sweet potato and bell pepper soup with fresh Cress
Source: Boost Your Health
Extra vegetables and a full feeling all day long, who wouldn't want that?
Ingredients
4 large sweet potatoes, peeled and cut
1 chopped onion
1 clove of garlic in pieces
2 cubes of vegetable stock (1 litre of boiling water)
1 cup of Garden Cress or BroccoCress®
1 tomato in 4 pieces
2 pointed peppers in pieces and the seeds out
a splash of olive oil
1 cup of full-fat yogurt
Method
Put a large pan on the stove with a dash of olive oil.
Fry the chopped and garlic in the oil until it is soft.
Add the stock and bring to the boil.
Put the sweet potato, bell pepper and tomato in the pan with stock and cook for about 15 minutes until everything is soft.
Mash the soup until smooth and season with pepper and fresh herbs.
Put a tablespoon of full-fat yoghurt in each bowl and add the soup, garnish with fresh cress for a nice spicy flavour. Add chilli flakes or tabasco to taste.
Source: Boost Your Health  
Related recipes
Gastronomical masterpieces
Related products
Say yes to the cress